Samsung chairman Lee Kun-Hee wins inheritance case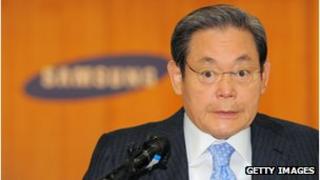 The chairman of Samsung Electronics has won a legal battle over an inheritance worth nearly $4bn (£2.5bn).
Lee Kun-Hee, South Korea's richest man, was sued by his siblings who had sought a bigger stake in Samsung companies.
The case centred around shares in Samsung Life Insurance and Samsung Electronics which the siblings accused Mr Lee of hiding from them.
A ruling against Mr Lee could have diluted his holding and his grip on one of South Korea's biggest groups.
According to the 2012 Forbes Rich List, Lee Kun-Hee was the richest man in South Korea with a personal fortune of $8.3bn.
Rapid growth
Samsung was founded by Lee Kun-Hee's father Lee Byung-chull selling dried fish in South Korea in 1938.
Lee Kun-Hee took over the chairmanship of Samsung in 1987 after his father died.
However, in April 2008, he resigned in disgrace after being charged with tax evasion and breach of trust.
He was convicted on the tax charges, but was given a presidential pardon in 2009 and returned to lead Samsung in 2010.
The Samsung Group has seen tremendous growth in the past few years and now includes electronics, shipbuilding, telecoms, and construction among its companies.
Its electronics division has been among the most successful ones, and is now the world's biggest phone and TV maker.
Last month, Samsung Electronics reported record quarterly profit of 7.04tn won ($6.6bn; £4.2bn) for the October to December period.
In December, the firm promoted the chairman's son, Jay Y. Lee, to the post of vice chairman.