BT profit up as revenue declines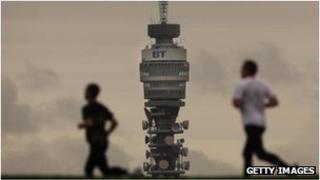 The decline in revenues at BT continued in the last three months of 2012, but its profits held up, the telecom firm has reported.
Total revenues fell 6% in the quarter from a year ago, to £4.5bn, with the decline hitting every division.
BT warned in November that its business would be hurt by European companies cutting their IT budgets.
Nonetheless, cost-cutting helped its profits grow 7% to £675m. Meanwhile its broadband customer base grew rapidly.
The company added a further 250,000 homes and businesses to its fibre-optic broadband network, according to chief executive Ian Livingston, bringing the total number of customers to 1.25 million. The expanding network is available to 13 million premises in all.
He said that BT Global Services - the division offering telecoms and IT services to corporations and governments overseas - had increased its new order book by 17% to £1.9bn.
"We have made progress in a number of areas and delivered solid financial results," said Mr Livingston.
With the decline in business volumes already well anticipated, markets focused on the good news in BT's statement.
The company's share price jumped 4.5% in Friday morning trading, making it the biggest riser in the FTSE 100 index of top UK stocks.
Pension fund hole
Each of the company's divisions was losing business for different reasons.
Loss of European orders showed up as an 8% fall in revenues at BT Global Services.
Meanwhile, BT's retail unit was hurt by households using their phones less, as people continue to migrate to mobile and the internet for communications, while its wholesale business was hit by "local loop unbundling" - customers asking rival firms to provide internet services over BT's cables.
Its infrastructure arm, Openreach, suffered a 2% loss of revenues as it was forced by regulators to cut its prices.
There was also bad news from BT's pension fund, whose estimated shortfall grew again, reaching £4.3bn at the end of last year, as falling long-term interest rates meant that the pension scheme had to increase its valuation of future payments to retiring employees.
BT has been seeking to fix the hole in its pension fund, which ballooned to £9bn in 2008.
In 2010 it switched the inflation indexing of its pensions from the retail prices index to the consumer prices index, which typically produces a much lower inflation rate because of the way it is calculated, cutting £2.9bn from its deficit and allowing the firm to announce a substantial increase in its dividend.
Last March, BT upped its contributions to the scheme, beginning with a one-off £2bn lump payment, which helped cut the shortfall to £1.9bn. However, since then the hole has steadily grown again.