Etihad Airways sees profits triple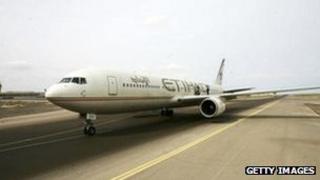 Abu Dhabi's Etihad Airways, sponsor of Manchester City Football Club, has tripled its full-year profits.
The fast-growing airline posted net profits of $42m (£27m; 31m euros) for 2012, up from $14m in 2011.
Revenues grew 17% from $4.1bn to $4.8bn, while passenger numbers topped 10 million for the first time.
Chief executive James Hogan said its order of 41 Boeing 787 Dreamliners was not under threat following the plane's recent battery problems.
"The Dreamliner's going to be a great aircraft," he told Radio 5 live's Wake Up to Money programme.
Etihad has stakes in Air Seychelles, Air Berlin, Virgin Australia and Aer Lingus, with these partner airlines contributing 19% of passenger revenues.
Mr Hogan confirmed to the BBC that his airline was "evaluating" whether to take a stake in India's second largest carrier, Jet Airways, following the Indian government's relaxation of rules governing foreign direct investment.
"India is a huge market," he said. "Last week I was in India and we're evaluating whether that's the right opportunity to take advantage of moving forward."
The United Arab Emirates national carrier increased its fleet by six to 70 aircraft in 2012 and plans to take delivery of a further 14 planes in 2013.
It began flying to six new destinations in 2012: Tripoli, Shanghai, Nairobi, Lagos, Ahmedabad and Basra.
"This has been a game-changing year for Etihad Airways," said Mr Hogan.
"We have delivered improved net profit, the second consecutive year we have been in the black, a remarkable achievement given the youth, ambitious growth and ongoing investment made by this airline in a challenging global economic environment."