Hollywood heads to the south-east US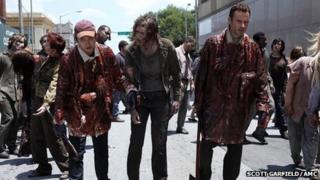 On an unusually cold winter's day in Atlanta, almost 50 people, armed with coats and cameras, board two buses for the Big Zombie Tour.
Amid snow flurries and freezing temperatures, they bundle up to photograph deserted streets and empty lots that serve as backdrops for their favourite TV programme.
The Walking Dead, a gory television drama with a cult following, is one of many shows that have set up shop in this south-east city.
More than 300 productions were filmed here last year, according to the state's film office, including the second instalment of the Hunger Games franchise, which was also a feature on the tour.
When the two tour guides revealed they were "walkers" - zombie ensemble cast members on The Walking Dead - the crowd of fans burst into applause.
Undead characters
Gemma Thomas, a 24-year-old teacher, drove more than seven hours from Tampa, Florida, with her boyfriend, Neil Dacanay, to take the Big Zombie Tour in Atlanta. They had been surprised to learn The Walking Dead was filmed in a south-east state.
"We saw the end credits and it said it was filmed on location in Georgia," says Ms Thomas, "and we were like, 'Really? That's awesome.'"
Her boyfriend was equally impressed. "You just don't think of Atlanta as a city to film in," Mr Dacanay says. "Everything is on the west coast."
But that's changing, much to the delight of the region's creative community.
Sipping a can of lager in a downtown Atlanta pub after leading a zombie tour, Charlie Leach, 49, reflects on his career as a background actor.
Performing under the name Chaz Lounge, he has managed to keep busy with roles that include homeless people and assorted undead characters.
"There is that much work in Atlanta right now," he says, pointing to himself. "Thirty movies - with this face."
Lounge has been working in the movies for the past decade, but has never been as busy as he has been over the past couple of years.
That is largely thanks to a hefty tax incentive from the state.
Tax breaks
Since 2008, film and television productions in Georgia have been able to receive a tax credit of 20-30% if they spend $500,000 or more, and a further 10% if they feature a Georgia-peach logo.
According to the Georgia Film, Music and Digital Entertainment Office, productions filmed in the state generated more than $3bn (£1.9bn) in the last fiscal year, compared with $244m five years ago.
Lee Thomas, director of the division, says tax incentives are not the only reasons productions come to Georgia.
"We have diverse locations," she says. "We have everything from the coastline, to the mountains, to a major metropolitan city."
Atlantans are growing accustomed to navigating streets blocked off for film crews.
The influx of productions has helped to bring jobs to a state grappling with an unemployment rate of 8.5% - above the national average of 7.9%.
"We've seen a lot of people that have been re-tooled for the film industry that have lost their jobs in other industries," Ms Thomas says.
Georgia looked to Louisiana, a southern state that led the way for the region with ambitious tax breaks more than a decade ago.
Chris Stelly, executive director of Louisiana Entertainment, says the entertainment industry was a natural match for the state.
"It fits well with our greatest natural resource," he says, "and that's our talent."
Shifting paradigm
In addition to its 30% incentive, Louisiana offers an additional 5% tax credit if a production hires local workers.
Mr Stelly says that is helping to keep talent in the state.
"When I was growing up, if you wanted to work in the film industry, you had to move to California or New York," he says. "We're reversing that brain drain."
For Atlanta-based talent agent Brenda Pauley, at the People Store, the influx of productions in the region keeps her busy - and happy.
"It's like a dream come true," she says.
Scrolling through a daily list of available film roles, she calls the recent boom in business "incredible".
She used to work in Los Angeles, but appreciates the shifting paradigm.
"They call us the Hollywood of the South now," she says.
California still leads the US film industry. The entertainment business there generates $30bn each year.
But the state is taking notice of its eastern rivals. California started an incentive programme in 2009, in an effort to keep productions in-state.
"We feel that we have lost market share," acknowledges Amy Lemisch, executive director of the California Film Commission.
But despite the progress from eastern upstarts, she's not too worried.
"We still are the production capital of the world," she says.