Chat apps mount challenge to Facebook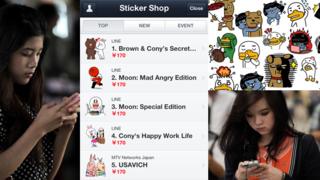 Commuting on buses and trains, even crossing the road, people here in Singapore are transfixed by their smartphone screens, and increasingly their fingers are typing at top speed on their chat app of choice.
Armed with a slew of social features and cutesy illustrations called stickers, messaging applications for smartphones which were conceived in Asia are changing the way people communicate around the world.
WeChat from China, Line from Japan and KakaoTalk from South Korea, have managed to attract hundreds of millions of users in a very short space of time.
Having conquered their home markets, these companies are setting their sights on global expansion and mounting a challenge to the more established players in the West.
"They are growing phenomenally fast, no one expected this to happen," says Neha Dharia from research firm Ovum.
"You would expect these players to become strong in their own markets, but you don't expect them to grow so fast globally."
In a sign of the impact of these applications and the importance of messaging to users, US giant Facebook made chat a more central feature of its Facebook Home software which was launched for Android devices earlier this month.
"Facebook has only just started putting thought behind messaging, it wasn't part of their core product," says Ms Dharia.
Evolving communication
It is an understanding of how consumers want to communicate with their friends and colleagues that is allowing the Asian chat apps to challenge the likes of Facebook.
Messaging applications on mobile phones were first popularised by Canada's Blackberry and the now self-proclaimed global leader of mobile chat, US-based WhatsApp, which claimed earlier this month to have more active users than Twitter - 200 million.
They began with basic text instant-messaging. But now, these newer applications have become places where users can do a host of things including make video calls, play games and, crucially, make purchases.
Step into any coffee shop in Singapore and you can see how popular these apps are, and how young people are spending increasing amounts of time using them.
Students sit in groups of two or three, their textbooks open on the table. Every few minutes the screen of a smartphone lights up and its owner will grab it and start typing away furiously.
"Anytime I'm not sleeping, I'm on my phone messaging throughout the day," says 21-year-old Amanda.
She uses Line, an app which claims to have 140 million people signed on, to stay in touch with her friends in Japan and compete against them on the games which come with the application.
On the next table is Vivienne, a 17-year-old student from China, using WeChat.
Launched by China's largest internet company Tencent in January 2011, it already boasts about 400 million users, mostly in its home country.
Vivienne's screen lights up as she unleashes a string of illustrations called emoticons.
"It's faster to express emotions with emoticons," says Vivienne, as she shows me the huge range of different options available to her.
Revenue stream
It is these emoticons, and - in the case of Line and KakaoTalk - stickers, which are one of the biggest draws of these apps for many.
Stickers are characters shown engaged in various activities and there are hundreds to choose from. Some are well-known, such as Hello Kitty, or they can be characters created specifically for the application.
"We think that there are various ways of expressing oneself," says Sirgoo Lee, co-chief executive at KakaoTalk, which he helped launch three years ago.
"Text is one way. You can [also] use pictures, which evolved into emoticons and stickers, to express yourself. It's just a natural evolution of communicating."
Shintaro Tabata, executive officer at Line, says users have responded enthusiastically to stickers.
"We are seeing that sometimes Line users are reaching that stage where they just exchange stickers without text," he says.
Costing about $2 in the Line universe, stickers are a major source of revenue for the company, which is part of the conglomerate NHN along with Naver, South Korea's most popular search engine.
Social competition
As most chat apps are free to download and the messages are free to send, the fact that the likes of Line and KakaoTalk have found ways to make money from mobile customers is part of their success.
But at the same time, they have drawn the attention, and ire, of mobile operators.
They are a challenge to the major telecommunications companies because they use mobile networks for free to offer a rival service, eating away at one of the telecoms companies' major sources of revenue.
"We do see a drop in traditional services like SMS, especially in markets like China and the Philippines, where it used to be that the majority of data service was from SMS," says telecommunications analyst Alex Chau, from IDC Hong Kong.
According to analysts at Ovum, some $23bn of SMS revenue was lost in 2012 and this is expected to rise to over $86bn in 2020.
Another research firm suggested this week that instant messaging on chat apps had overtaken the traditional SMS text message for the first time. Informa said almost 19 billion messages were sent per day on chat apps in 2012, compared with 17.6 billion SMS texts.
Telecoms companies have responded in different ways.
Some have gone the legal route, trying to force the chat app companies to pay an extra fee, while others have launched their own chat apps. And this year, there is more evidence of partnerships between mobile operators and the companies.
But as far as competition with other social networks goes, KakaoTalk's Mr Lee is coy.
"There's only a certain limited amount of time one spends on the mobile device. You could be doing KakaoTalk, Line or Facebook or Twitter. So in that respect, I think we are competing," he says. "But we're not setting out to beat Facebook or to become Twitter."
However, if users continue to embrace this as the next wave of mobile communication, there will be an impact on those stalwarts of online social interaction.