Toyota raises full-year profit forecast amid weak yen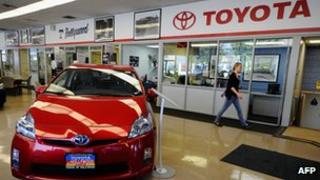 Toyota has raised it full-year profit forecast amid a weakening yen and a sharp recovery in sales in the US.
It forecasts a net profit of 860bn yen ($9.3bn; £5.9bn) for the financial year to 31 March 2013, up from 780bn yen.
Toyota reclaimed its title as the world's top vehicle maker in January, after Japanese production was hit by natural disasters in 2011.
Profits have also been boosted by the yen falling 15% against the US dollar since November last year.
A weak yen helps Japanese companies like Toyota which rely heavily on overseas sales.
The firm issued the guidance as it posted a 23% jump in profit for the September to December quarter.
It made a net profit of 100bn yen during the period, compared with 81bn a year earlier. The numbers mean that Toyota's earnings for the April to December period nearly quadrupled from a year earlier.
The firm added that it expects its sales to rise further in the coming months, driven mostly by an improved performance in the US.
"We believe that our efforts have been bearing fruit and that we are finally on the road to sustainable growth," said Takahiko Ijichi, senior managing officer at Toyota.