OECD: UK economy may need more stimulus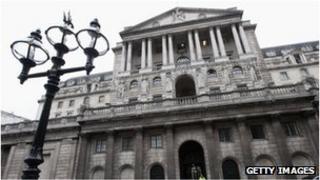 The Bank of England should be ready to inject more money into the economy, the Organisation for Economic Co-operation and Development (OECD) has said.
If the UK economy remains weak, a further round of quantitative easing would seem the best option, it said.
The Bank has so far pumped £375bn into the financial system, creating money to buy back government bonds.
Some policymakers have questioned the effectiveness of QE, but the OECD said further action could "be warranted".
The OECD said in its latest UK economic survey: "Overall, in the current economic situation, further expansion of the asset purchase programme would be warranted if the economy stays weak."
It said cutting interest rates to zero was another option to consider, but added that it would not have "clear advantages over expanding QE".
The Paris-based economic think tank forecasts that the UK's economy will grow just 0.9% this year after shrinking by 0.1% in 2012.
The UK economy has suffered two recessions in the last four years and could be on the verge of another one, the so-called "triple dip".
In its report, the OECD also backed Chancellor George Osborne's decision to ring-fence banks' retail and investment arms. The organisation said, however, that it would require careful monitoring.