Boeing Dreamliner: Battery probe results 'weeks away'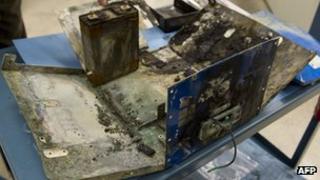 A US regulator has said it may take "weeks" for it to complete its probe into battery problems that hit two of Boeing's 787 Dreamliner planes.
A battery on one plane caught fire, while a malfunction forced another to make an emergency landing last month.
The incidents led to the authorities grounding all 50 of the 787s in use.
However, the National Transportation Safety Board (NTSB) said that the battery being used in the 787s may not necessarily be unsafe.
"I would not want to categorically say that these batteries are not safe," said Deborah Hersman, head of the NTSB.
"Any new technology, any new design, there are going to be some inherent risks. The important thing is to mitigate them."
Ms Hersman added that the NTSB was "running through the macro level to the microscopic level on this battery".
"But I think we are probably weeks away from being able to tell people here's what exactly happened and what needs to change."
When contacted by the BBC, Peter Conte, a spokesman for Boeing said the firm was "choosing not to comment on Ms Hersman's remarks as the matter was under active investigation".
Longer grounding?
The incidents on the two planes prompted authorities in the US and Japan to launch inquiries to try to find out what caused the battery problems.
However, Japan's transport ministry has already said that safety inspectors had found no faults with the battery.
That has led to concerns that planes may remain grounded for a while, till the time investigators can find out what actually went wrong.
The comments by the NTSB head have further stoked those fears.
"Until the regulators can find out what exactly went wrong with the batteries, and figure out a solution to the problem it is unlikely that they will allow the planes to fly," Shukor Yusof, an aviation analyst with Standard & Poor's told the BBC.
The fear is that the longer its planes remain grounded, the more costly the issue may become for Boeing.
The plane maker has already cancelled deliveries of the aircraft. It has orders for 800 Dreamliners and a long delay in approval to fly again is likely to delay delivery schedules further.
There have also been concerns that airlines which already fly the Dreamliner, and have been impacted by the grounding, may ask for financial compensation from Boeing.
Japan's All Nippon Airways, which operates the largest number of 787s, has cancelled over 1,200 flights since safety regulators grounded the Dreamliners on 16 January.
January's disruption alone has lost the company 1.4bn yen (£9.5m) in revenue.
"The longer the Dreamliners remain grounded, the costlier it will become for Boeing," said Mr Yusof of Standard & Poor's.