US takes India to WTO over solar cell imports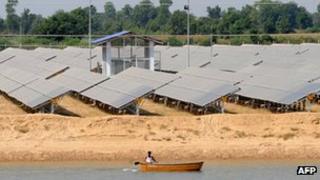 The US has filed a complaint with the World Trade Organization (WTO) against India's national solar policy saying it "discriminates" against US products.
The US has alleged that India requires solar energy producers to use Indian-manufactured solar cells and modules.
It added that India offered subsidies to developers for using domestic products rather than imported ones.
The US alleged that such "forced localization" had restricted India's market to US exports.
It said that these policies were in violation of the the WTO rules and that it had previously raised the issue with Indian authorities on various occasions.
Greater share?
Over the past years India has been pushing for a greater use of solar energy as it looks to meet the growing energy demand in the country.
As the use of clean and renewable energy grows, the demand for solar cells and modules is likely to receive a boost.
The US said it wanted to ensure that its companies were given an equal opportunity to compete in the Indian market.
"Trade enforcement is critical for ensuring that our clean energy goods and services can compete on an equal footing around the world," said Ron Kirk, the US Trade Representative.
"We will not hesitate to enforce our rights under our trade agreements on behalf of American workers and manufacturers."
Mr Kirk also added that the India's policies were resulting in raising the cost of clean energy in the country.
Trade disputes
The US complaint is the latest in a series of trade disputes between the two countries.
Last year, the US has dragged India to the WTO challenging its ban on imports of American poultry.
India banned shipments of US farm products, including poultry meat and chicken eggs, in 2007 to prevent the spread of avian flu.
However, the US authorities said India had imposed the ban to protect local industry and that it violated global trade rules.
Meanwhile, India lodged a complaint at the WTO against import duties levied on Indian steel products by the US.
The US has imposed a duty of nearly 286% on some steel pipes from India, saying they had been unfairly subsidised by the government.