Sony cuts quarterly losses amid recovery hopes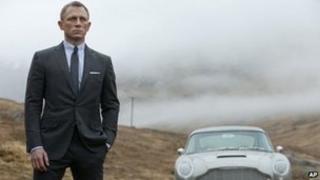 Signs that Sony's recovery plan may be working came with news that the struggling electronics group has cut its quarterly losses.
Net losses for the October-December period fell to 10.8bn yen ($115m; £73m), from 159bn yen for the quarter in 2011, with sales up 6% to 1.9tn yen.
The maker of the Playstation games console and Bravia televisions has lost money for the past four years.
Sony has faced tough competition, plus a high yen that makes exports dearer.
The latest quarterly figures brought total losses in the nine months to end-December to 50.9bn yen, a 75% fall on the previous nine months. Sony made record losses of 557bn yen for the whole of 2011 financial year.
Sony's film division made a profit, thanks to the success of movies such as Skyfall and Hotel Transylvania. The music division also made a profit. However, the TV division made a loss - and has done for several years.
'Wow' products
Sony's statement confirmed a previous forecast that the company should return to profit for the financial year to end-March.
Kazuo Hirai, who took over as president nine months ago, has promised to deliver a new range of "wow" products in order to re-establish Sony as the premier electronics and entertainment company.
Sony says on the its own website that it "is reinventing itself to deliver new and exciting experiences". New mobile devices, cameras and interconnected gadgetry are in the pipeline.
There is speculation that the company will soon announce its new-generation Playstation 4 console.
Sony's problems have been echoed throughout Japan's electronics industry. Last week, Panasonic and Sharp announced huge losses, and warned of more to come.
Fierce competition from the likes of Samsung, a strong currency - although there are signs the yen in weakening - and strategic mistakes, have undermined the country's global leadership in electronics.
The industry has also been hurt by a Chinese consumer boycott of Japanese brands stemming from a territorial dispute between Beijing and Tokyo.