Vodafone's Europe revenues see steep falls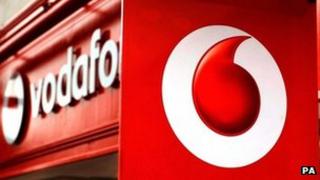 Vodafone has warned of "very difficult market conditions in Europe" as it reported a worse-than-expected fall in revenue.
Service revenues for the last three months of 2012 were down 2.6%, the mobile operator said, with the steepest declines seen in Spain and Italy.
They reflect lower usage by existing customers in Europe.
There was also slower growth in emerging markets such as India and South Africa.
Last year, Vodafone was forced to write down the value of its units in southern Europe due to their poor performance.
"Our results continue to reflect very difficult market conditions in Europe," said chief executive Vittorio Colao.
"We are addressing this through firm actions on cost efficiency, and continuing to invest in areas of growth potential."
Revenues fell by 13.8% in Italy and 11.3% in Spain.
Vodafone is also struggling with increased competition and new regulations in the UK and Germany. Services revenues in Germany were down 0.2%, and dropped 5.2% in the UK.
Turkey and India remained strong emerging markets, with growth of 18.4% and 9% respectively, but this was slower than in previous quarters.
More positive news came from the smartphone market. Vodafone said data revenues were up, with a third of customers in Europe now using smartphones.
In the US, Verizon Wireless, in which Vodafone has a 45% stake, saw its service revenues grow by 8.7%, thanks to the strong addition of new customers.
Although the figures were worse than expected, Vodafone's shares in London rose by 1% in the first 10 minutes of trading.