LinkedIn quarterly profits send shares up 10%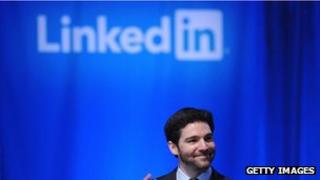 Business-focused social networking website LinkedIn's quarterly profits were double expectations, sending shares up 10% in after hours' trading.
Profits for the fourth quarter were $40.2m (£25.5m), twice the amount expected by watchers of the company.
The rise came as increasing numbers of job seekers and recruiters signed up to get connected taking the numbers registered to more than 200 million.
Linkedin also said its future prospects were bright.
Turnover was also higher than expected, rising 81% to $304m from the same period a year ago.
The site's international markets performed strongly, more than doubling in the past year to bring sales of $114.6m.
International earnings are now 38% of the total business.
The figures mean the company, which listed on the stock market in May 2011, has beaten earnings forecasts for seven consecutive quarters.
LinkedIn was founded by former employees of the payment processing system PayPal in 2002.