China reports better than expected trade data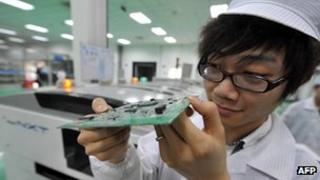 China has reported better-than-expected trade data, fuelling optimism that its economic growth may be rebounding from the recent slowdown.
Exports, a key growth driver, surged 25% in January from a year earlier. Most analysts had forecast a 17% jump.
Imports surged 28.8% indicating a robust pick up in domestic demand.
Separate figures showed that the inflation rate slowed to 2% in January but there was concern over a spike in food prices as vegetable costs soared.
Holiday season distortion?
China's growth rate slipped to 7.8% in 2012, the slowest annual pace since 1999, fuelling worries about the health of the world's second-largest economy.
"China's economic conditions are improving and the trade data confirms the continuation of a recovery trend," said Hirokazu Yuihama, senior strategist at Daiwa Securities.
"Not just the trade data but retail, production and investment flows clearly show that the economy bottomed out in the third quarter last year."
However, some analysts said that the figures for January were distorted by the change in the timing of the Chinese Lunar New Year.
The New Year celebrations see factories and businesses in China being shut for many days impacting production of goods.
Last year, the Lunar year was celebrated in January, while this year it is being observed in February.
Analysts said that this meant that factories operated for more days in January this year than in 2012.
"The timing of Chinese New Year played a very important role," said Tao Wang, an economist with UBS in Hong Kong.
"It's always difficult to predict the exact strength [of the trade numbers], given the number of working days."
Recovery
She added that the Lunar New Year also affected the import numbers as companies restock ahead of the celebrations.
However, other analysts said that while the change in timing of the New Year celebrations did have an impact on the numbers, the overall trend was that of a recovery in the Chinese economy.
"After controlling for the Chinese New Year, the numbers are still very strong and shows the economic recovery is on track," said Zhang Zhiwei, chief China economist at Nomura.
"Both imports and exports are about five to eight percentage points above market expectations, so it is a pretty strong showing."