Ryanair says its Aer Lingus bid will be rejected by EU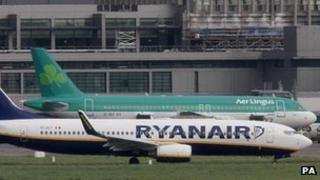 Ryanair has said that the European Commission has informed the airline that it intends to block its proposed offer for rival Aer Lingus.
Ryanair said the decision was "clearly a political one" to meet the interests of the Irish government and was not based on competition law.
It said it would appeal against any prohibition decision.
The Commission said it would take a decision on the deal at the end of February or the beginning of March.
The Irish government holds a 25% stake in Aer Lingus and has previously voiced its opposition to Ryanair's bid, saying the deal risks damaging competition.
Ryanair, which already owns 30% of Aer Lingus, is making its third attempt to buy its rival.
It was given a list of objections by the European Commission in October last year and says it has addressed all of the competition concerns raised.
It said its latest offer to the Commission included commitments from BA owner IAG to take over the routes Ryanair and Aer Lingus operate from London Gatwick, and from Flybe to take over 43 Aer Lingus routes in the UK and Europe.
"Given Ryanair's remedies package clearly addresses every issue raised in the EU's Statement of Objections, any decision to prohibit would be manifestly unfair and in contravention of EU competition rules," said Ryanair's Robin Kiely.
"Ryanair has no alternative but to appeal any prohibition decision and we expect to get a fair hearing at the European Courts, as we haven't received one from Commissioner Almunia and his case team."