India inflation rate dips to three-year low in January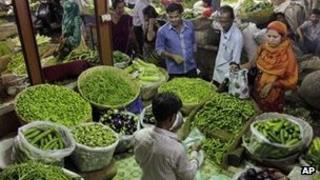 India's inflation rate has dipped to a three-year low, giving more room to policymakers to take steps to revive its sluggish economy.
The Wholesale Price Index, India's main gauge of inflation, eased to 6.62% in January, down from 7.18% in December.
India's growth rate has dipped recently amid slowing exports, a decline in investment and subdued domestic demand.
India's central bank cut interest rates last month and a slowdown in inflation may see it ease its policies further.
"We are looking at a sharp and sustained downward trend, which should give the Reserve Bank of India the elbow room to go ahead at least with a couple of more rate cuts," said Abheek Barua, chief economist at HDFC Bank.
Mr Barua said he expects the central bank to cut rates in March and April.
Growth concerns
Earlier this month, India's statistical office lowered its growth forecast for the year to 31 March 2013, saying it now expects the economy to grow by just 5% during the period.
The central bank has also lowered its growth projection for the year to 5.5% from 5.8%.
India's economy has been hurt by a slowdown in exports and subdued domestic demand, the combination of which has affected the manufacturing and services sectors.
Meanwhile, a delay in key economic reforms has seen foreign investors become wary of entering the country.
That has led to concerns that India's growth rate may slow further in the coming months.
Prompted by these fears, policymakers have taken various steps to try and spur a fresh wave of economic growth.
Last month, India's central bank cut its key interest rate to 7.75% from 8%, the first such move in nine months.
It also lowered the amount of money that banks need to keep in reserve, a move it said should provide 180bn rupees ($3.4bn; £2.1bn) of extra cash for them to lend.