Social tech entrepreneurs on around the world voyage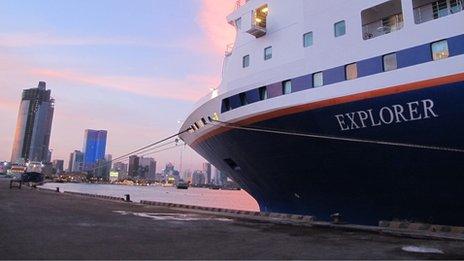 As it approaches midnight out at sea, somewhere between Ho Chi Minh City and Singapore, the MV Explorer takes on the look of an abandoned ghost ship.
In a cluttered room that serves as a make-shift office onboard, Tendekayi Katsiga, a technology entrepreneur, is one of a few people still awake.
Typing away on his computer, he is putting together a presentation for potential investors and partners.
His company, Solar Ear, manufactures affordable, solar rechargeable hearing aids in Botswana and distributes them to other parts of Africa.
His is one of 11 technology-based social ventures that have come aboard this ship going around the world, hoping to scale up their businesses and have a big social impact.
They are joined by mentors, including Nobel Peace Prize winner Desmond Tutu, who will be using their experience and contacts to give them an advantage.
Mr Katsiga has another seven hours before the ship reaches Singapore. If his presentation goes well, he could be one step closer to his aim: taking Solar Ear global.
"There are 525 million people with hearing loss and 70% of them live in developing countries. So it's a big market, the market is so huge and impact is so profound," he explains, his fatigue suddenly fading as he outlines his plans.
"Our goal is to scale our output from 10,000 to 50,000 units per year....We've only covered 1% of the market."
The 105 day boat voyage was dreamed up by Daniel Epstein from the Unreasonable Institute, a social-venture incubator based in Boulder, Colorado, and George Kembel from Stanford University's Institute of Design.
The Explorer, a converted cruise-liner, left from San Diego and will stop in 11 countries in Asia and Africa before ending its journey in Barcelona.
At each port of call there are events, pitch sessions and meetings set up for the companies to show off their wares.
"The motivation to put Unreasonable at Sea together, and the one question that everyone whose involved in it was asking, is: how do you go global?" says Mr Kembel, a former venture capitalist.
And that question is all the more pertinent for social enterprises for whom conquering more markets could mean wider impact on the lives of more people.
The companies on board are all trying to tackle social and environmental problems on a large scale and their businesses include ways of cleaning the world's oceans, creating affordable medical devices and developing a non-intrusive technology that allows blind people to see.
And many of them are hoping that the networks of the mentors, including Silicon Valley heavyweights like Megan Smith and Tom Chi of Google, will be able to put them in touch with the right people in each market they visit.
"It's about finding the right connections," says Solar Ear's Mr Katsiga, adding that he's already been hooked with a number of potential partners.
But while business is important to the people on board the Explorer, the emphasis is also very much about learning. The ship belongs to the Semester at Sea program, which takes university students around the world as they complete their degrees and qualifications on board.
It makes for an interesting mix of conversations at lunch in the shared cafeterias, with critiques of English literature bouncing off ideas about manufacturing facilities in China.
As fun as it seems, however, this is no booze cruise. The entrepreneurs have the smallest cabins on the ship near the bow with no windows, formerly used by the ship's crew.
Organiser Mr Epstein calls it the dungeon and says he deliberately asked for that accommodation because he did not want the entrepreneurs to think it was a holiday.
And despite the students lounging around the pool, or shooting hoops on the basketball court in between classes, the entrepreneurs are not taking this trip lightly.
Each new market they stop at brings with it an opportunity to learn and adapt their product or business models, and none of them want to squander it.
"In Tokyo, we found engineers ready to work with us for product development," says Mr Katsiga. "In Shanghai, we learned how their distribution models works, so we can apply it on the African continent."
During the day, the atmosphere on board the ship is vibrant and hopeful; the energy of lots of young people who feel as if they can change the world.
But once on land, the entrepreneurs will have to deal with the harsh realities of funding the expansion of their businesses.
Securing an investment can take months of back and forth in the hope of reaching terms that are agreeable to both parties.
And given the social nature of their enterprises, finding the right kind of funding could still prove a challenge, says Vinnie Lauria, a founding partner at Golden Gate Ventures, an incubator for early stage startups in Southeast Asia that is based securely on terra firma.
"They should be sure they are working with incubators or investors who show that they care about more than the financial bottom line," says Mr Lauria.
That means tracking down investors who think more of the "double bottom line", meaning they are willing to give up some financial returns for the sake of impact.
While that is a growing trend, with wealthy people looking at a broader range of investments, it is by no means widespread, especially in developing countries, says Royston Braganza of Grameen Capital India, which helps raise money for micro-finance institutions.
Mr Braganza goes on to warn the budding businesses that they should not be hasty in agreeing to deals, especially as they only have a few days at each port.
"It's not about raising 'X' amount of money, it's about raising the right kind of capital from the right kind of investor at the right time."
Before he gets to those choices, Mr Katsiga has another decision to make on board the Explorer, and it is one that could mean giving up a stake in his company.
The entrepreneurs are almost half way through their journey and when the ship reaches its next stop, Burma, they can choose to opt out of the program.
In a rare move for an incubator, Mr Epstein says if the entrepreneurs feel they are not getting enough value out of the voyage they can disembark for good, even though the Unreasonable Institute has spent $100,000 (£65,000) on each company.
If they decide to continue though, Unreasonable takes a stake in the company of between 1% to 6%, or strikes a revenue-sharing deal.
Mr Katsiga says he will most likely stay on board.
After a successful presentation in Singapore, he walked away with yet another stack of business cards, something that makes him hopeful for the company's future.
Related Internet Links
The BBC is not responsible for the content of external sites.