Gucci owner PPR's shares hit 12-year high in France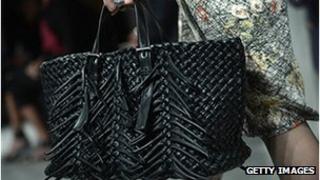 Shares in the French luxury goods firm, PPR, have risen more than 7% in Paris to their highest level in 12 years.
That follows a better-than-expected jump in earnings at the company, which owns brands such as Gucci and Yves Saint Laurent.
Net income rose 6.3% to 1.4 bn euros while sales jumped 20% to 9.7bn euros, driven in part by sales of its Bottega Veneta handbags.
PPR boss Francois-Henri Pinault said the results were "excellent".
Mr Pinault added that he was confident of "significantly improving our operating and financial performances in 2013".
"The results are a clear positive and it confirms that PPR is holding one of the most balanced brand portfolio in luxury, which is currently outperforming peers like LVMH," one Paris-based trader told Reuters.
The company pointed out that about 40% of its global sales now came from emerging markets.
The company is made up of two main types of business - luxury goods and sports and lifestyle brands. It owns an 82% stake in Germany's Puma.
In a conference call, the company's managing director, Jean-Francois Palus, said that Puma's recent performance was not in line with expectations and that they were working to turn around the business and resume growth. A new chief executive should be announced in the next few weeks.
On Thursday, Puma reported a 70% drop in profit to 70m euros.
Asked about luxury trends in China, Mr Palus said that it was too early to tell whether last year's slowdown was over, but that initial signs were positive. Sales had picked up in the fourth quarter of 2012. He said the new leadership was likely to put in place measures to boost domestic consumption.
Last year, it bought the Chinese luxury jeweller Qeelin.
PPR is in the process of selling its mail order business Redcats. Having failed to sell its Fnac music and book business, it will now spin the retailer off as a separately listed company.