BMW recalls 720,000 cars worldwide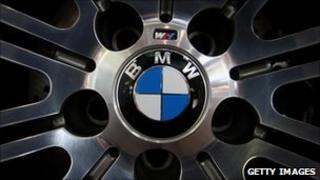 German carmaker BMW is recalling about 720,000 vehicles, mostly in North America, over potential electrical problems that may cause unexpected stalling.
The recall affects various versions of its 1-Series and 3-Series cars, as well as the Z4 sports car.
The firm is recalling some 505,000 cars in the US, 65,000 in Canada, 100,000 in Japan and 50,000 in South Africa.
BMW said the problem had caused one minor crash in Canada, but no injuries.
Vehicles in its home market of Germany and the rest of Europe are not involved in the recall.
'Risk of a crash'
The affected vehicles are the 3-Series sedans, coupes, convertibles and sports wagons built between 2007 and 2011, the 1-Series coupes and convertibles from model years 2008 to 2012, and the Z4 vehicles from model years 2009 to 2011.
The recalls in Canada also include 1,800 X1 compact crossover vehicles from 2012.
The US National Highway Traffic Safety Administration (NHTSA) described the problem: "The connector for the positive battery cable connector and the corresponding terminal on the fuse box may degrade over time.
"Over time, the high current flow and heat from electrical resistance may lead to a breakage of the connection, and a loss of electrical power to the vehicle."
This could cause the vehicle to unexpectedly stall, therefore increasing the risk of a crash, the NHTSA said.
Owners are expected to be notified in March.