BHP Billiton chief Marius Kloppers to retire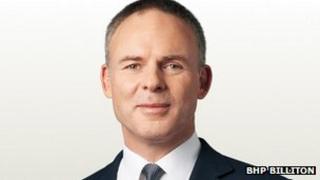 Mining giant BHP Billiton has announced that its chief executive Marius Kloppers will retire in May.
He will be replaced by Andrew Mackenzie, currently head of the company's base metals business.
"The board has decided that Andrew is the right person to lead BHP Billiton in a changing global environment," the company said in a statement.
It comes as the group reported a 58% fall in half-year net profit, knocked by weaker metal prices.
The Anglo-Australian miner said net profit for the first half fell to $4.2bn, compared with $9.9bn in the corresponding period a year earlier.
BHP chairman Jac Nasser said Mr Kloppers, who was appointed chief executive just before the financial crisis, had made an "outstanding contribution" to the firm's growth and was leaving BHP "a safer and stronger company".
'Pass the baton'
In August, Mr Kloppers had said that he would forgo his bonus for 2012, after the company announced writedowns in shale gas and nickel assets totalling $3.3bn.
Announcing his retirement, he said the decision was "never going to be easy".
"However after almost 20 years with BHP Billiton, 12 as a senior executive and nearly six as CEO, I believe now is the right time to pass the leadership baton."
He added that one of the first decisions he had made when he became chief executive was to bring Mr Mackenzie to BHP.
Mr Mackenzie has 30 years' experience working in oil and gas, petrochemicals and minerals, and had previously held senior positions at BP and Rio Tinto before joining BHP in 2008.
He said it was a privilege to be asked to lead the company and he looked forward to building on Mr Kloppers' legacy.