AirAsia and Tata plan Indian budget carrier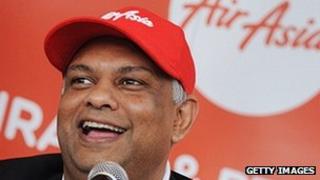 Asia's largest low-cost carrier, AirAsia, plans to launch an Indian budget airline with India's Tata and a third investor, Telestra Tradeplace.
The companies said they were looking for approval from the Indian government.
"We strongly believe that the current environment [in India] is perfect to introduce our low fares," said AirAsia boss Tony Fernandes.
AirAsia would own 49% of the new airline.
The other two Indian companies would own the remaining stake. The new carrier would operate from Chennai in southern India.
A spokesman for Tata Son - the investment arm of Tata Group - said: "The benefits to the domestic market will include: a) AirAsia's reputed service, which will further grow aviation as a mode of transport in what is a relatively underserved market and b) employment generation."
He added that AirAsia would manage the airline and that Tata would not have any operating role in the proposed venture.
India's aviation industry was opened to foreign investors in September last year, allowing overseas companies to own up to 49% of local airlines.
As yet, no operators have taken advantage of the new rules, although the UAE's Etihad Airways is in talks to buy a stake in Jet Airways.
The Indian airline industry has been battling steep losses caused by price battles and rising fuel costs. Only one of India's six main scheduled carriers - IndiGo - made a profit last year.
The BBC's Mumbai business reporter, Sameer Hashmi, says that AirAsia's plan to partner with two Indian companies that do not operate in the aviation sector saves them the trouble of taking over any massive debt, which almost all Indian airlines possess.
On Twitter, Mr Fernandes re-tweeted a comment from Amit Bhatia, part of the Telestra group, and added: "Welcome to the airline business. Dump the private jet in India. AirAsia India is the way."
In a separate development in the industry, shares in the loss-making Kingfisher Airlines rose 5% after its owner, UB Group, agreed to increase a loan to the carrier.
Kingfisher has also reportedly restarted paying wages to its staff. The airline's fleet has been grounded since October because of the amount of money it owes to staff, lenders, suppliers and airports.