Qantas: Boeing compensation boosts first-half earnings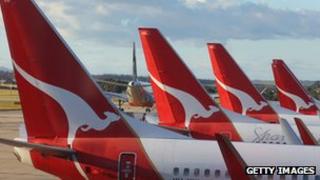 Qantas profits have risen, boosted by compensation from Boeing after it cancelled 787 orders and amid narrowing losses on its international operations.
It made a net profit of A$111m ($114m; £75m) in the six months to the end of December, up from A$42m a year earlier.
The figure includes A$125m compensation that Qantas received from Boeing.
The carrier said that losses at its international division, which has been a key area of concern, narrowed to A$91m from A$262m a year earlier.
Its international business has been hurt by slowing demand from its key markets and high fuel costs.
Qantas has also lost passengers to rival carriers, reducing its share of the international market.
As a result, the firm has taken measures to try to turn around the fortunes of the unit, including cancelling services on loss-making routes and streamlining some of its maintenance operations and cutting jobs.
It has also formed an alliance with Emirates, with the two carriers agreeing to collaborate on pricing, sales and flight scheduling.
Alan Joyce, chief executive of the airline, said the measures were starting to have an impact on the airline's earnings.
"We are now beginning to realise the benefits of the tough decisions that we have made over the past 18 months," Mr Joyce said.
"Qantas International is well advanced in its turnaround plan."
Domestic decline
However, the airline's domestic operations, which have been the biggest driver of its growth in recent times, saw a decline in profits during the period.
Profits at the division fell to A$218m from A$328m a year earlier.
Qantas said that increased competition in the sector was a key factor behind the decline.
"Clearly the Australian domestic market is highly competitive," Mr Joyce said. "We have seen elevated levels of capacity growth from competitors attempting to claim market share from Qantas Domestic."
"This has put pressure on yield for all airlines," he added.
Some analysts said that they had expected profits of the division to dip, but added that it was not a cause of worry.
"The basic fact remains that they are still making a healthy profit despite the competition on pricing amid the push to retain corporate travellers," Siva Govindasamy of Flightglobal told the BBC.
Qantas said that it renewed 40 and won 39 new accounts for corporate travel during the period.
"We are confident that with our balanced portfolio of domestic airlines we will remain the leader in every segment of the market," Mr Joyce said.