BT to buy ESPN UK and Ireland channels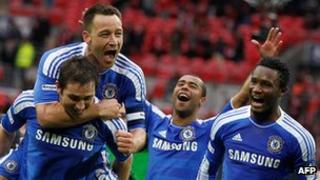 BT has agreed to buy ESPN's UK and Ireland TV channels as it adds to its live sports coverage.
The deal sees BT acquire the ESPN and ESPN America channels, and their live rights to show FA Cup, Scottish Premier League, Uefa Europa League, and German Bundesliga matches.
The company will launch its BT Sport TV package in the summer.
BT had already secured the rights to show live English Premier League games for the first time, from next season.
The BT deal creates a bigger competitor for BSkyB, the satellite broadcaster that has increased its number of UK subscribers to 10 million on the back of sports rights.
BT already offers a broadcasting package through its BT Vision pay-TV offering. The ESPN deal is seen as a way to drive customers for BT Vision, which currently has about 700,000 subscribers.
The UK telecoms firm has been investing heavily in its sports offering, including buying the rights to show live Aviva Premiership rugby union matches and a deal with the WTA to show women's tennis.
It has taken on some big-name sports presenters including Jake Humphrey, who led the BBC's Formula One coverage, and Clare Balding who presented horse racing and Olympics coverage for the BBC.
After last year's auction of Premier League rights, which raised more than £3bn, ESPN was left with no rights to show live matches after the 2012-13 season.
The package went for 70% more than the previous one, with BSkyB agreeing to pay £2.28bn for the rights to 116 games per season from 2013-14 to 2015-16. BT, meanwhile, agreed to pay £736m for the rights to 38 games per season over the three-year period.
New package
The ESPN deal is expected to be completed at the end of July. After that BT said it would continue to operate at least one ESPN-branded channel as part of its new sports package.
ESPN channels will broadcast from BT Sport's new facilities at the Olympic Park in Stratford.
"We are delighted to have reached agreement with ESPN for the acquisition of their UK channels business and that we have been able to add some exciting new sports rights to the ones we already have," said Marc Watson, chief executive of television, BT Retail.
"The FA Cup, Scottish Premier League and Europa League rights will allow us to offer customers of BT Sport even more quality live football, including our first games from the Scottish top flight and our first European competition rights."
The deal will also see BT continue to show the US sports currently shown on ESPN America, which includes college basketball, college football and Nascar racing.
Ross Hair, ESPN's managing director for Europe, Middle East and Africa, said: "We could not be more proud of the TV channels built and nurtured by our talented team over the past four years.
"The value of that hard work is reflected in this deal with BT and the continuation of ESPN on television screens across the UK and Ireland."
The deal does not include ESPN Classic, which will be wound down.