Home Depot profits from housing recovery and Storm Sandy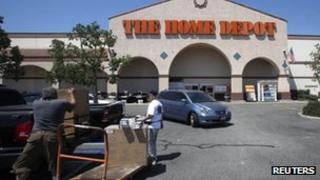 Home Depot's profits jumped in the last three months as the US home improvement chain benefited from the housing market upturn and repairs after Storm Sandy.
The firm recorded net income of just over $1bn, up a third from a year ago.
US sales, adjusted for changes in store space, rose 7.1% in the quarter, with growth fastest in New York and New Jersey, hit hard by the October storm.
Home Depot's share price rose 5.7% on the results, and on strong US new home sales data released the same day.
New home sales surged 16% in January to the highest rate since July 2008, according to the US Commerce Department.
'Gradual thawing process'
Greater housing market activity generally translates into more business for Home Depot, as homebuyers seek to furnish their new abodes.
The Atlanta-based company raised its sales and earnings forecasts for its next financial year, ending in February 2014, in light of the housing recovery.
But the firm claimed it was remaining conservative.
"While recovering, we do not believe the housing market will fully recover in 2013," said chief financial officer Carol Tome.
Chief executive Frank Blake said the recovery "will resemble a gradual thawing process".
The company continues to outstrip its main rival, Lowe's, who also revealed stronger-than-expected results the previous day.
Home Depot was faster to cut costs in the face of the housing downturn, centralising its distribution centres and redeploying staff to serve customers.
The bigger firm has now seen its sales growth beat Lowe's for 15 consecutive quarters.
Home Depot's board said it would increase its dividend by a third and carry out a $17bn share buyback programme in order to return cash to shareholders.