Premier League clubs 'can meet Uefa financial rules'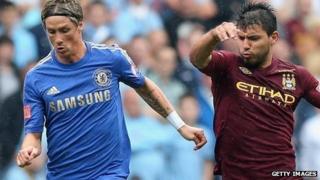 A former director of Manchester United who is also a leading sports lawyer believes all Premier League clubs can meet Uefa's Financial Fair Play rules.
The rules are broadly designed to make clubs - from 2014-15 season - pay their bills and only spend what they earn.
There have been questions whether big spenders like Manchester City and Chelsea would be able to comply.
But Maurice Watkins, who spent 28 years on the United board, said Premier League clubs could meet the strictures.
Clubs which want to play in Uefa's Champions League or Europa League competitions must meet the new financial guidelines if they want to get a licence allowing them to take part in those tournaments.
Exceptions to the rules
"I don't think any English club is going to fail," said Mr Watkins, referring to that first 2014-15 season when the Uefa rules will be in place.
"Clubs will have been reading the financial fair play rules and regulations very closely to look for areas that they can use in their favour," added the lawyer, of the Brabners Chaffe Street firm.
He said he thought there were enough "exceptions" to the Uefa rules that English clubs making a financial loss could then use to make sure they were able to come up with a reduced figure which was acceptable to European football's governing body.
Those exceptions include not counting money spend on youth and training academies as a loss, and - in certain circumstances - allowing clubs to deduct the wages paid to players on pre-June 2010 contracts.
At Manchester City, for example, these two deductions - for financial fair play purposes - could wipe many millions of pounds off the club's total losses of £97.9m for season 2011/12.
European legislation
Mr Watkins, a member of the Premier League legal advisory group, said the challenge for Uefa would be when it was faced at some stage with potentially excluding a big club from one of its competitions.
"If someone is faced with exclusion, then I think we will see some potential arguments and challenges come into play [from clubs]." he said.
He said these could be on the basis of European Union regulations which prevent "anti-competitive collusion" and which prohibit "abuse of a dominant position".
Mr Watkins, who stepped down from the Manchester United board last year, was taking part in the LexisNexis Sport and Law conference in London.
His firm acted for Celtic last season in a Europa League row involving FC Sion, which eventually saw the Scottish club replace the Swiss one in the competition's group phase.
In addition to his football work, he is also chairman of British Swimming and interim chairman of the Rugby Football League.
Separately from the Uefa regulations, the Premier League is bringing in a form of financial fair play of its own.