Italy's borrowing costs surge after election stalemate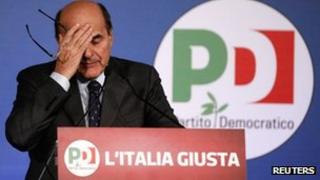 Italy's borrowing costs rose sharply at an auction on Wednesday, in the first test of its ability to borrow money long-term at affordable rates after the country's inconclusive election result.
Italy sold the new 10-year government bonds at a yield of 4.83%, up from 4.17% at its last sale in January.
The yield provides an indication of the yearly interest rate Rome would have to pay to borrow new money.
But it did sell all 6.5bn euros' worth (£5.6bn) of 10- and five-year bonds.
The new five-year bond was sold at a yield of 3.59%, up from 2.94% in January.
The higher borrowing costs at the auction had been expected, as yields had risen on Tuesday after the parliamentary election revealed no clear winner in both houses.
Pier Luigi Bersani's centre-left bloc won the lower house by a tiny margin, but did not secure a majority in the Senate.
A split parliament is likely to make it harder for one group to push through their plans to revive the economy, and that may stall Italy's process of cutting its public debt levels, which stood at 127% of GDP in 2012.
'Strong demand'
Borrowing costs are still well below the levels seen in November 2011, when the yield on the 10-year bond reached 7%.
Demand for both bonds was higher than at the previous auction, and the markets appeared to take heart from this, with European share indexes rising after the result.
The 10-year bond attracted bids worth 1.65 times the amount on offer, up from a so-called bid-to-cover ratio of 1.32 in January.
The bid-to-cover ratio on the five-year bond was 1.61, compared with 1.3 at the previous sale.
Michael Leister, senior strategist at Commerzbank in London, said it was a "very strong auction on all accounts", on both the demand side and the pricing side.
"The Tesoro [Treasury] filled the maximum amount, with 4bn euros allocated in the new 10-year, which is very strong," he said.
"On top of that, we have bonds being priced significantly above secondary levels - the 10-year is more than 60 cents above the secondary levels. So clearly we have had this spike in yields, but that was sufficient to trigger good buying interest for Italian paper here."
On the secondary market, government bonds already in circulation are traded by banks and other financial institutions.
But Annalisa Piazza, market economist at Newedge, warned that demand was "probably led by domestic accounts who took advantage of higher yields".
"We rule out [that] foreign accounts have played a major role at today's auction, as political risks remain high."