US durable goods orders fall in January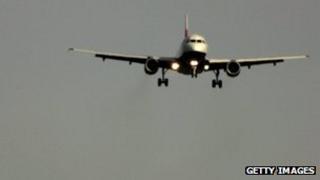 Orders for durable goods in the US fell 5.2% in January, the first fall in five months, as orders for aircraft plunged.
But excluding transportation orders, which can be volatile, orders rose 1.9%, the highest rate since December 2011, said the Commerce Department.
Factories saw a 6.3% rise in demand for non-defence capital goods, pointing to a rebound in business confidence.
Meanwhile, separate data suggested that sales of previously-owned US homes continued to recover in January.
The National Association of Realtors said pending home sales rose 4.5% last month to their highest level since February 2007, apart from a brief spike in April 2010, when homebuyers rushed to take advantage of a tax credit that was about to expire.
The figure is closely watched by economists and the market as a leading indicator of health in the housing market. It tracks the number of sale contracts that have been signed - something that typically occurs 45 to 60 days before the sale is completed.
The rise in pending home sales, and the underlying improvement in durable goods sales, add to evidence that the US economic recovery is gaining momentum.
On Tuesday, the US registered a surprisingly strong rebound in consumer confidence for February, and a jump in new home sales in January.
Wednesday's data encouraged a further rally on stock markets that saw the Dow Jones Industrial Average rise 0.75%, taking it just above the 14,000 mark once again.
Boeing effect?
The latest batch of durable goods data revealed that orders for military aircraft dropped 63.8% in January, as the government tightened its defence spending, while orders for non-defence aircraft fell 34%.
Aaron Smith, senior economist at Moody's Analytics, said transportation orders tended to be volatile and were very strong at the end of last year.
"Non-defence aircraft orders tend to be quite weak in January, so it tends to be seasonal, but we came off a very strong December," he said.
"The fact we see weakness in this category is not surprising. If we actually look at the Boeing orders, there [were] only two orders in January.
"That might reflect the negative headlines swirling around. That might have attributed to the weakness to some extent."
Boeing's 787 Dreamliner planes have been grounded since mid-January after problems with its lithium-ion batteries.