Ryanair's bid to take over Aer Lingus blocked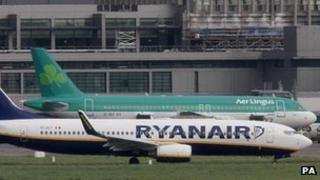 The European Commission has blocked a third attempt by Ryanair to take over rival Irish airline Aer Lingus.
In its ruling, the commission said the merger would have harmed consumers, reduced choice and led to increased prices for passengers travelling in and out of Ireland.
Aer Lingus welcomed the decision and said "Ryanair's offer should never have been made".
Ryanair said it would appeal against the judgement.
The budget airline, which already owns 30% of Aer Lingus, was given a list of objections by the European Commission in October last year and said it had addressed all of the competition concerns raised.
Ryanair's Robin Kiely said: "The EU Commission has regrettably reversed its own precedents in order to prohibit Ryanair's offer for Aer Lingus.
"Ryanair's radical remedies package clearly addressed all of the concerns raised by the EU both in its 2007 prohibition and in its November 2012 statement of objections.
"Ryanair regrets that the EU Commission has again failed to apply its own competition rules and precedents in a fair and dispassionate manner.
"We regret that this prohibition is manifestly motivated by narrow political interests rather than competition concerns and we believe that we have strong grounds for appealing and overturning this politically-inspired prohibition.
"Accordingly, Ryanair has instructed its legal advisers to prepare a comprehensive appeal against this manifestly unjust prohibition."
The Irish government holds a 25% stake in Aer Lingus and has previously voiced its opposition to Ryanair's bid.
Irish transport minister Leo Varadkar said the commission's decision "supports the government's view that a merger would be bad for competition in the Irish aviation market".
"Following detailed consideration of the proposal, the government's strongly held view is that a takeover of Aer Lingus by Ryanair would have a significant detrimental effect on competition, connectivity and employment in the Irish market," the minister said.
"Similar to my own view, the commission considered that the remedies proposed by Ryanair were insufficient to address the competition concerns."
Mr Varadkar said promoting competition among airlines serving the Irish market was at the heart of the government's aviation strategy.
"The continued presence of at least two strong competing airlines serving Ireland's air transport needs is clearly good for competition," he said.