Apple boss Tim Cook accepts share price disappointment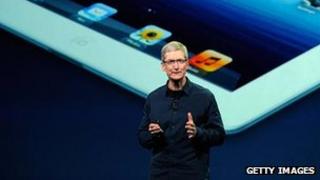 Apple's chief executive Tim Cook has acknowledged shareholder unease over the technology giant's falling share price, but said the company was working on a pipeline of "great stuff".
He told Apple's annual meeting that no-one enjoyed seeing the share price fall some 35% from its September high.
"I don't like it either. The board doesn't like it," he said.
The fall has led to calls for Apple to give shareholders some of its $137bn (£90bn) cash pile.
Mr Cook said that a return of cash to investors was an option for the board to consider, though he made no promises.
Hedge fund manager David Einhorn has led calls for Apple to boost the return earned by shareholders, which he complains is dragged down by the low income the company earns on its cash hoard.
Mr Einhorn has argued that Apple could do this by issuing more preference shares to investors, even going to court over the issue.
Mr Cook called Mr Einhorn's campaign a "silly sideshow".
Apple has seen its share price fall from a record $702.10 on the back of disappointing sales and worries about competitors such as Samsung. On 14 March, Samsung will launch the Galaxy SIV, the version of its flagship smartphone
However, Mr Cook told the meeting that Apple was working on a string of new products, although he gave no details.
There has been speculation that the maker of the iPhone and iPad is working on a project to revolutionize the television market, and also to produce a smart "iWatch."
Mr Cook, who took over from Steve Jobs after Apple's co-founder died, answered a variety of questions from shareholders, including some on Apple's new headquarters, working conditions in its factories and product plans.