Argentina tells court it will resist debt demands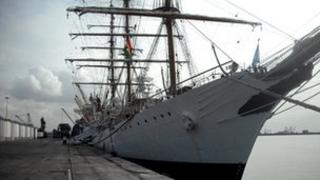 Argentina has signalled to a US court that it will resist demands by a group of investors to repay them in full 11 years after its huge debt default.
A New York appeals court was hearing arguments after a previous ruling that Argentina should pay $1.3bn (£857m).
Argentina refuses to pay anything to investors who declined to participate in a previous debt reduction deal involving most of the nation's lenders.
Argentina was not minded to obey the previous court order, lawyers said.
"We would not voluntarily obey such an order," Jonathan Blackman, a lawyer for Argentina, told the appeal hearing.
However, he said Argentina was open to a solution that is "workable and doesn't create a terrible confrontation".
The appeal comes after a Manhattan court ruled last February that Argentina had violated its contractual obligation to treat all creditors equally. That meant the country would have to pay the bondholders, led by NML Capital and Aurelius Capital Management.
Argentina defaulted on some $100bn of debts in 2002, and has since restructured its debt twice, cancelling around 75% of the nominal value of the bonds.
Almost 92% of the country's bondholders agreed to write off most of the amount owed to them.
NML Capital and Aurelius are demanding 100% repayment plus interest.
The two investors were so determined to get their money that they went to court to have an Argentinean ship, the Libertad, impounded in Ghana. After several weeks, the ship returned home.
There is concern that if the pair succeed in getting all their money, Argentina's settlement with other creditors could unravel. The court ruling could also set an unfortunate precedent for other heavily-indebted nations seeking to restructure their finances.
However, Circuit Judge Reena Raggi said at Wednesday's hearing that a court's role is to enforce contracts, "not to rewrite them".
She said it "hardly seems appropriate for a court not to enforce one of its orders, because a party will breach another of its obligations".
The appeals court is expected to take several weeks to make a judgement.