US GDP: Revision takes economy into growth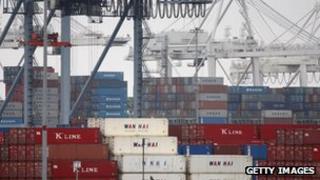 Gross domestic product (GDP) in the US in the last three months of 2012 has been revised from showing contraction to growth.
The Commerce Department's second estimate was that the economy had grown at an annualised 0.1%. The first estimate was a 0.1% contraction.
The revision was due to more exports and business investment than thought.
It is still a very low rate of growth, well down from the annualised 3.1% in the previous quarter.
On the quarterly basis that many other countries report in, growth was revised from -0.04% to 0.03%.
GDP measures the value of all the goods and services produced in an economy.
The revised rate is still the slowest for two years.
"The expectations were for a much stronger upward revision," said Omer Esiner, chief market analyst at Commonwealth Foreign Exchange in Washington DC.
"The fact that we only eked into positive growth in Q4 will do little to instil optimism in the pace of the recovery."