AirAsia and Tata win bid for Indian budget carrier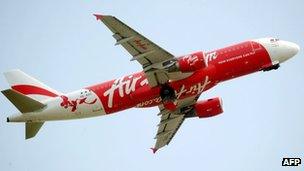 A bid by Malaysian low-cost carrier, AirAsia, to set up an airline in India has won approval from the Indian government.
It would be the first foreign company to try to capture the rising demand in India's aviation sector.
AirAsia India would be a joint venture with the well-known Tata Group, based in Chennai in South India.
India's aviation industry, which has suffered major losses, was opened to foreign investment last year.
The government now allows foreign companies to own up to 49% of a local airline.
AirAsia, which is Asia's largest low-cost carrier, will make an initial investment of 800m rupees ($15m; £10m) and will own 49% of the new airline, while Tata Sons will have a 30% stake.
Arun Bhatia, the owner of investment firm Telestra Tradeplace, will have the remaining share.
After the approval was handed down by India's Foreign Investment Promotion Board, the economic affairs secretary said AirAsia would now have to get the necessary licences from the country's aviation regulators.
AirAsia, which is known as a pioneer of low-cost travel in Asia, already operates flights into Indian cities including Bangalore, Kochi and Chennai.
India's competitive airlines industry has been mired in losses because of rising fuel costs as well as intense price competition.
Only one of India's six main carriers - IndiGo - made a profit last year.
Related Internet Links
The BBC is not responsible for the content of external sites.