Serious Fraud Office to investigate Autonomy, says HP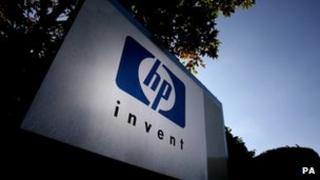 The UK's Serious Fraud Office (SFO) is investigating the sale of technology firm Autonomy to Hewlett Packard, according to a filing from HP.
It joins the US Department of Justice and the UK accounting regulator in questioning the firm.
HP bought the British firm in 2011 for $10bn (£6.7bn). Last year it claimed the firm had inflated its value, leading HP to write off $5bn.
Autonomy's former boss, Mike Lynch, has strenuously denied the allegations.
HP's filing said: "The UK Serious Fraud Office advised HP that they had also opened an investigation relating to Autonomy.
"HP has provided information to the UK Serious Fraud Office, the US Department of Justice and the SEC related to the accounting improprieties, disclosure failures and misrepresentations at Autonomy that occurred prior to and in connection with HP's acquisition of Autonomy."
However, the SFO also said there had been reports that it used an Autonomy software product, Introspect, which is a document management tool.
This could mean that the SFO is in the unusual position of having to decline an investigation because of a conflict of interest.
"The SFO is keen to ensure that there is now no conflict of interest or perception of such a conflict, and it is obliged as a first step to make inquiries to ensure that it can continue as the investigating body. It is undertaking this work at present," it said in a statement.
Shareholder action
In confirming the investigation, a spokesperson for the SFO said, "allegations have been made to the SFO about the circumstances of the sale in 2011 of Autonomy to Hewlett Packard".
"The director of the Serious Fraud Office has decided to open an investigation into those allegations, with a view to using its powers of investigation to allow them to be tested."
He pointed out that, "the opening of a criminal investigation does not mean that individuals are guilty of a crime or indeed that a crime has been committed".
The US Department of Justice started looking into HP's claims late last year, shortly after the accusations were made.
HP holds its annual general meeting in California later this week, where the case is likely to be discussed.
There have been calls by two shareholder advisory firms to vote against the re-election of HP's chairman, Ray Lane, as well as two of the longest serving directors, Marc Andreessen and Rajiv Gupta, because of the takeover of Autonomy.
Share price rise
Institutional Shareholder Services and Glass Lewis are both unhappy with the management, accusing it of inadequately inspecting Autonomy's books in the run up to the purchase.
In a letter to shareholders, Mr Gupta countered that "losing some of our directors in an abrupt and disorderly manner could undermine our efforts to stabilize the company".
"What the company needs now is stability and consistency of leadership so that the board and the management team can devote all of their focus and energy towards executing on our strategic plan.
" Accordingly... forcing a change to the Board by voting against certain members at this time is both unnecessary and not in the best interests of HP or its stockholders."
After HP accused Autonomy of misrepresenting its accounts, the share price fell dramatically, down 12% in one day to $11.71, the lowest level in a decade.
This year, however, HP shares have risen steadily. They have risen by about 48% since January and now stand at about $21.
The company's latest earnings report showed a drop in sales, but was better than analysts had feared. It reported that revenues fell 6% to $28.4bn in the three months to January. Sales in its PC division fell 8%.
It also said it had improved its net debt position for the fourth quarter in a row by over $1bn.
Chief executive, Meg Whitman, said that the turnaround was starting to gain traction. She has warned that it will take several years before HP is fully back on its feet.
Some 27,000 jobs will be cut by the end of 2014 and costs will be reduced by up to $3.5bn a year.