Commerzbank to cut government stake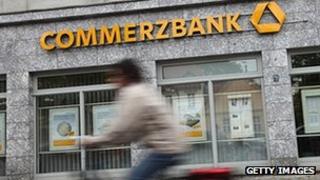 The German lender Commerzbank is planning to raise capital to reduce the government's stake to less than 20% of the company.
The country's second-biggest lender is raising 2.5bn euros ($3.2bn; £2.1bn) through a share sale to repay the loan.
The state currently owns about 25% after a bailout during the financial crisis.
The bank said this marks "the beginning of the end of the Federal Republic's engagement in Commerzbank".
In 2008 and 2009, Germany invested around 16.4bn euros in Commerzbank as it struggled to integrate the distressed Dresdner Bank into the group.
Commerzbank is planning an early repayment in full of about 1.6bn euros in so-called silent participations from the German bank bailout fund, it said, referring to a form of debt under which creditors forego voting rights in the company in exchange for an investment.
The news of the share sale sent the stock plunging because it will dilute the value of the existing shares.
Commerzbank shares tumbled nearly 10% to 1.26 euros, the lowest level in seven months.
"With the complete repayment of the silent participations... we are repaying ahead of schedule all components of the state support over which we have influence," said chief executive Martin Blessing.
"The support of politicians and the taxpayer was very important for us during the financial crisis," Mr Blessing said.