House prices: Is it cheaper to buy than rent?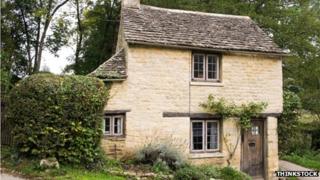 The cost of renting a home has risen. The cost of taking out a mortgage has fallen. And house prices may, at last, have stabilised.
So might this be the perfect time to put away the rent book, plant a climbing rose over the doorway, and become king or queen of your own domain?
According to the housing charity Shelter, the cost of renting has risen by £300 a year over the past 12 months.
And repayment mortgages are at their lowest interest rates for years.
Emma Jarvis, a dental nurse from south London, has long dreamt of owning her own place.
"When I was younger, in my 20s, it was like an ambition," she says.
But the reality of a £19,000 annual salary and pricey London rents have forced her to reconsider her plans.
"At this point I feel like it is something I've completely given up on. Owning a property is not possible for me."
She is now saving just to afford a larger place to rent.
20% deposit
But could Emma and her three housemates actually afford a mortgage?
As it happens, the house they share is up for sale, for £475,000.
If they took out a 30-year repayment mortgage, at three per cent, the monthly cost would be around £1,600 between them - the same figure as their rent payments.
All very attractive on the face of it.
But to get that sort of interest rate, most lenders will ask for a 20% deposit.
In the case of Emma and her housemates, that would require a deposit of around £95,000.
"To that you've got to add stamp duty," says Simon Tyler, a mortgage broker.
"In total that makes about £110,000, so each of them are going to need about £28,000, which is a lot to ask," he says.
At the moment Emma manages to save around £100 a month.
So it would take about 23 years to reach that target.
Most banks or building societies will lend around four times a joint income for a couple who are both in work. They are unlikely to lend so generously where four borrowers are concerned.
To try and get around the deposit issue, the government has launched a number of schemes to help would-be homeowners.
Under HomeBuy, buyers have to find a five per cent deposit. They then take out a mortgage for up to 75% of the property and pay rent on the outstanding amount.
FirstBuy has a similar aim for first-time buyers, but instead of paying rent, owners take out an equity loan to finance the balance.
And then there's the NewBuy guarantee scheme, known as MI New Home in Scotland, which started a year ago.
Borrowers can get a 95% mortgage under the scheme, because loans are underwritten by the builders and the government.
But, up to the end of 2012, only 1,500 people had actually managed to buy as a result of the NewBuy scheme, the BBC has learned.
The original target was 100,000.
Campbell Robb, chief executive of housing charity Shelter, said NewBuy had helped but was "not on the scale and size of the initiatives we need to build new houses, to reduce the cost overall, and to help people onto the ladder".
A government spokesman said the scheme had been "praised by many in the industry for helping people move" but said it would have time to take effect.
Figures from the Communities and Local Government Department suggest the average private renter pays £160 a week in England, while the average owner-occupier pays £143 a week in mortgage payments.
But the figures mask the fact that some owner-occupiers will have bought at historically low prices and may have paid off some of their mortgage.
In the meantime, deposits are unlikely to fall below that five per cent requirement.
As a result, home ownership for millions of renters in the UK will remain an elusive ambition.