Australia adds 71,500 jobs, the biggest jump since 2000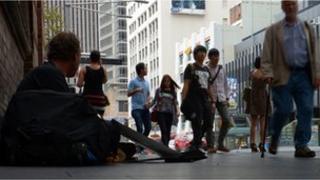 Australia added 71,500 jobs in February, a huge jump and the biggest rise in total employment in more than a decade.
Full-time employment jumped by 17,800 and part-time employment was up by 53,700, said the Bureau of Statistics.
There was also a rise in the total workforce, which comprises those in work plus those looking for it. The unemployment rate remained at 5.4%.
Analysts said the data was a sign that economic conditions were improving.
"It's spectacular employment growth," said Brian Redican, a senior economist at Macquarie. Most analysts expected only about 9,000 jobs to be added in February.
"With that kind of employment growth, obviously policymakers would be feeling pretty comfortable with the current policy settings," added Mr Redican.
Although some economists warned that the dramatic rise could be a one-off instead of a steady trend upwards.
Easing cycle
Central Bank Governor Glenn Stevens had been easing monetary policy since late 2011, in an attempt to stoke growth.
Many analysts have predicted that the resources mining boom, which has helped Australia through the global economic slowdown, could be coming to an end.
The central bank has, therefore, been trying to boost performance in the other sectors of the economy.
However, since December Mr Stevens has held interest rates at 3%.
Analysts said it seems that the previous rate cuts are beginning to have a positive effect on the economy.
Housing market conditions have also shown signs of improvement.
However, the strength of the Australian dollar remains a source of concern, as it hurts manufacturing and other sectors.
The Australian dollar jumped by more than half a cent to $1.036, as traders became less hopeful that another interest rate cut was on the way.