US factory output jumps in February amid recovery hopes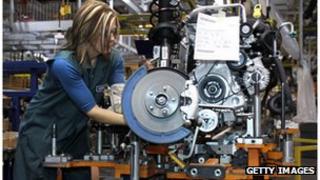 US manufacturing activity rebounded in February, thanks to a strong increase in vehicle production.
Factory production rose a seasonally adjusted 0.8% in February from the previous month, after falling 0.3% in January, the Federal Reserve said.
Meanwhile, inflation rose by the largest amount in nearly four years in February, driven by rising gas prices.
The figures added to improving sentiment over the outlook of the US economy and the jobs market.
Output in cars, vehicles and parts showed the biggest rise, gaining 3.6% after falling 4.9% in January, according to figures by the Federal Reserve.
Manufacturers increased hiring last month, adding 14,000 jobs. The industry has added 39,000 in just the past three months.
Joseph LaVorgna, chief economist at Deutsche Bank, raised his forecast for first-quarter growth to an annualised rate of 3% from a previous estimate of 1.5%.
Meanwhile, the Labor Department said that the consumer price index increased 0.7% in February from the previous month, the largest increase since June 2009. Gasoline prices, which rose 9.1% last month, accounted for about 75% of the rise.
But excluding food and energy, which are volatile, consumer prices rose just 0.2% during that month.
Federal Reserve officials will meet next week to assess the economy, including whether or not to extend its bond-purchasing programme aimed at spurring growth.