Fashion retailer Asos in sales boost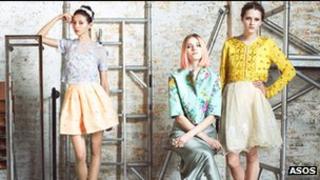 Online fashion retailer Asos has bucked the gloomy retail trend with a "robust" set of sales figures for the first half.
Total sales rose 34% to £352.3m (412.3m euros; $531.8m) for the six months to 28 February 2013, the company said in a statement.
US sales rose 54% to £35.6m, while total group revenues rose 34% to £359.7m.
Chief executive Nick Robertson said he was "delighted" with the performance.
"We remain positive in our outlook for the year to 31 August 2013," Mr Robertson said, "and continue to trade in line with expectations."
International sales now account for 61% of the company's total, while a strong UK performance in December helped boost the figures, said Mr Robertson.
Asos, which targets 20-somethings looking to emulate the latest celebrity fashions, sells more than 60,000 branded and own-label products.
Its websites now attract nearly 20 million unique visitors a month.
US First Lady Michelle Obama is reported to be a fan of the retailer.
The company's share price, which has risen 83% over the last 12 months, was up 2.35% in early morning trading in London, giving the company a market capitalisation of £2.6bn.