Customers safe, say Cyprus UK banks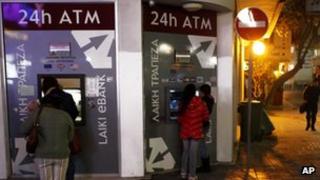 Cypriot banks operating in the UK have insisted their customers will not be affected by any bailout deal.
Talks between Cyprus and the EU and IMF are continuing aimed at securing a rescue package for the island's banks.
Earlier this week, its parliament rejected a levy on bank accounts that would have made small savers pay 6.75% of their savings.
Bank of Cyprus UK has about 50,000 UK deposit account holders; while Laiki bank has about 13,000.
Cyprus has to raise 5.8bn euros (£4.9bn; $7.5bn) before Monday to secure a 10bn-euro loan.
Parliament has approved restructuring the island's banks, among other moves.
The BBC understands Britain is providing advice on banking issues to the Cypriot government. Tom Scholar, a senior treasury official, who acted as a director of Northern Rock after it was nationalised, travelled to Cyprus on Friday.
'Business as usual'
Bank of Cyprus UK told the BBC it was not directly exposed to events in Cyprus itself.
Although it is a subsidiary of Bank of Cyprus, it says it is self-funded and does not rely either on its parent or on other banks for the money it needs to operate.
It is incorporated in the UK and authorised by the Financial Services Authority, so deposits of up to £85,000 are protected under the Financial Services Compensation Scheme.
For deposits in Cyprus's other, smaller, bank, Laiki bank - which has four UK branches - the situation is different. They are not guaranteed by the UK scheme, because Laiki is not incorporated here. They are covered by an equivalent scheme in Cyprus, which ultimately relies on the Cypriot government for its funding.
Laiki says it is not yet clear how the UK branches will be affected by the planned restructuring, but the bank insists that it is currently operating normally and does not expect UK account holders to be subject to any tax on deposits.
Ruth Harvey, of Laiki Bank, said: "As far as we are concerned it is business as usual at our UK branches. We are saying, keep calm and carry on".
Tony Leahy, spokesman for Bank of Cyprus UK, said their loans were predominantly to UK small and owner-managed businesses.
"As a ring-fenced business here in the UK, our activities are not directly exposed to events in Cyprus and all our eligible depositors are protected under the UK's Financial Services Compensation Scheme to the value of £85,000.
"Our customers are reassured by this and indeed we continue to experience positive levels of deposit retention and investment."