Dating firm Cupid rejects 'fake profiles' allegations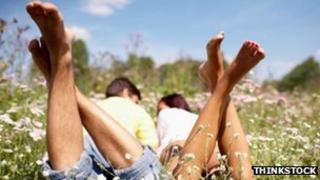 Online dating company Cupid plc has said it "strongly refutes" allegations that its business practices are "fundamentally flawed, inappropriate or illegal".
The Edinburgh-based company was responding to allegations that it set up fake user profiles to entice prospective customers.
Cupid's share price collapsed 57% to 49p on Friday after it announced an audit into its business practices.
But the price rose to 79p on Monday.
In a statement, Cupid, whose websites include cupid.com, benaughty.com, girlsdateforfree.com and flirt.com, said the company "does not employ members of staff to create fake profiles, impersonate users or use any other dubious practice to encourage customers to take out subscriptions or in order to retain existing customers, nor would the company condone, promote or persuade employees to do so".
Cupid confirmed that it does employ a "motivation team", but said its activities included mystery shopping, site monitoring and moderation of chat rooms and forums, not enticing "paying subscribers to renew".
The company did admit that "scammers" bombarding users with fake profiles to elicit email addresses and other personal data were a problem for the industry as a whole, but not "something that is specific to Cupid".
It said it was investing in "increasingly sophisticated tools and systems to discourage, deter and eliminate this type of practice" and intended to do more to ensure that its members were genuine.
Real or fake?
In February, a BBC investigation spoke to internet surfers who said they received lots of messages from prospective dates when they first signed up for nothing.
But when they subscribed to the service, interest rapidly tailed off.
Cupid denied at the time that it was creating user profiles on its websites to entice new customers to sign up or that the company sent communications in order to tempt free members to pay subscriptions.
Its chairman, Bill Dobbie, said it had about 500 "staff profiles" on its websites, but he insisted they were used for moderating chat rooms and forums, as well as rooting out scammers.
Blogger John Hempton, of Bronte Capital, set up a fake profile on girlsdateforfree.com that he deliberately made as unattractive as possible to test what kind of reaction he would receive.
Headed "Fat, lazy, poor sick guy wants support", Mr Hempton's profile claimed he suffered from a sexually transmitted disease. Despite this, he still received 190 emails from supposedly interested partners.
Mr Hempton's story was then featured in a Financial Times blog.