Dell says it received offers from Blackstone and Icahn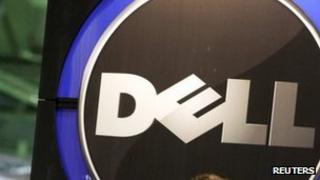 A special committee of Dell's board has confirmed that it has received two takeover offers to rival the one made by founder Michael Dell.
It said that "both proposals could reasonably be expected to result in superior proposals".
The offers for the PC maker came from the private equity group Blackstone and billionaire investor Carl Icahn.
Mr Dell, together with the Silver Lake Group, is offering $13.65 a share.
That offer from the founder and his private equity partners would value the computer manufacturer at $24.4bn (£16bn).
Blackstone is offering an amount in excess of $14.25 a share, while Mr Icahn is offering $15 a share.
Neither of the new bidders wants to buy the whole company, however, with Mr Icahn offering to buy 58% and Blackstone saying it would buy out any shareholders who wanted to sell their holdings, but not specifying how much of the firm it wants to acquire.
Alex Mandl, chairman of the special committee, said he was pleased to have found "two alternative proposals with the potential to create additional value for Dell shareholders".
But the committee's statement stressed that there was no assurance that either proposal would eventually lead to a bid being made.
Analysts have said that one problem for the committee will be how to compare three offers to buy different amounts of the company.
Michael Dell, who is currently chairman and chief executive of the company, would delist it from the stock exchange, while the two new offers would take control but retain the listing.
Dell's largest independent shareholder, Southeastern Asset Management, says the offer from Mr Dell, who owns 16% of the company, "grossly undervalues" it.
Any of the offers would need to be approved by a majority of Dell shareholders, excluding the founder.
The computer maker has been hit by the rising popularity of tablet computers and is diversifying into more profitable areas of technology, such as business software, data analytics and storage.