South Korea lowers growth forecast as exports slow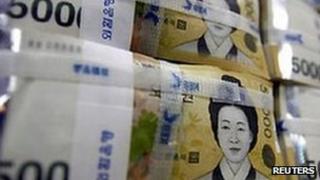 South Korea has cut its growth forecast for the second time in three months, amid a slowdown in its exports.
The finance ministry now expects the economy to grow by 2.3% in 2013, down from its earlier projection of 3%.
Exports, which account for almost half of South Korea's overall output, have been hit by weak demand from markets such as the US and the eurozone.
The ministry said that it would unveil a series of stimulus measures in the coming days aimed at reviving growth.
South Korea's economy expanded by 2% in 2012, the slowest pace in three years.
Double whammy
South Korea's exports have also come under pressure from the recent weakness in the Japanese currency.
The yen has dipped nearly 20% against the US dollar since November last year, making Japanese goods more affordable to foreign buyers.
Meanwhile, the South Korean won has risen by nearly 10% against the US dollar since May, making South Korean goods more expensive.
There are concerns that with Japan and South Korea competing in similar markets, South Korean goods may lose out as a result of fluctuations in the currency.
Stimulus measures
Meanwhile, policymakers have found it tough to boost domestic consumption in South Korea, which has also affected growth.
The ministry said that it would unveil stimulus measures, including a proposal for an additional supplementary budget and steps to spur the property market, to try to boost domestic spending.
"The government has decided to act in a more pre-emptive manner in response to the heightened macroeconomic uncertainties," said Choi Sang-mok, director general at the ministry.
Though the government did not give any details on the size of the budget, some analysts said it was likely to be about 10 trillion won ($9bn; £6bn).
Last year, the government announced two separate stimulus measures worth $12.2bn in an attempt to spur economic growth.
The measures included tax breaks on purchases of homes and cars.