Ex-HBOS chief Sir James Crosby asks to return knighthood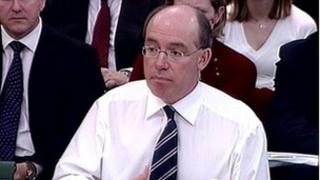 Former HBOS chief executive Sir James Crosby has asked for his knighthood to be removed and has resigned as a non-executive director of Compass Group.
He will also forgo 30% of his £580,000-a-year HBOS pension following last week's critical report into the bank's collapse during the financial crisis.
Sir James served as chief executive at HBOS between 2001 and 2006.
The Banking Standards Commission report called him the "architect" of the strategy that led to HBOS' downfall.
His request will now be considered by a Whitehall honours committee.
On Tuesday evening, it was also announced that he was stepping down immediately from Compass, the world's biggest catering company.
Sir Roy Gardner, Compass chairman, said in a statement: "On behalf of the board, I would like to thank James for the significant contribution he has made to the company over the last six years."
'Deeply sorry'
Sir James said that the Banking Commission report "made for very chastening reading".
He added: "Although I stood down as CEO of HBOS in 2006, some three years before it was taken over by Lloyds, I have never sought to disassociate myself from what has happened.
"I would therefore like to repeat today what I said when I appeared in public before the commission in December; namely that I am deeply sorry for what happened at HBOS and the ensuing consequences for former colleagues, shareholders, taxpayers and society in general.
"Shortly after I left HBOS, I received the enormous honour of a knighthood in recognition of my own - and many other people's - contribution to the creation of a company which was then widely regarded as a great success.
"In view of what has happened subsequently to HBOS, I believe that it is right that I should now ask the appropriate authorities to take the necessary steps for its removal."
Sir James spent 12 years at Halifax and HBOS during a 30-year career in financial services.
He was also the deputy chairman of the City regulator, the Financial Services Authority from 2007 to 2009 - the height of the financial crisis.
He said that during his careers he had "both contributed to and built up a substantial pension entitlement".
Sir James said he had decided to forgo 30% of his gross pension entitlement payable to him during the rest of his lifetime.
Pension reduced
His current annual pension payment amounts to about £580,000 a year, meaning he will waive around £174,000 a year.
"I will be discussing how this reduction is implemented, and whether the amount waived should go to support good causes, or benefit shareholders, with the pension scheme's employer and trustees."
Following the publication of the Banking Commission's report last week, Sir James resigned from an advisory position he held at London-based private equity firm Bridgepoint.
He now says he will also stand down from his voluntary position as a trustee of Cancer Research UK.
In a statement the chairman of Cancer Research UK, Michael Pragnell, said he "fully respected James's decision" and thanked him for his "active support".
In its report, the Banking Commission recommended that Sir James, along with two other HBOS executives Andy Hornby and Lord Stevenson, should be banned from taking new jobs in financial services.
Speaking to the BBC, Pat McFadden MP, a member of the commission, welcomed Sir James's announcement.
"I think it's some belated recognition on Sir James Crosby's part of his leading role in a very irresponsible and ultimately calamitous strategy for this bank," he said.
There is no precedent of an individual asking for the removal of a knighthood. Any annulment must be approved by the honours committee.
Fred Goodwin, the former chief executive of Royal Bank of Scotland, was stripped of his knighthood in 2012 after leading the bank to near-collapse in 2008, and an eventual multi-billion pound government bailout.