Australia's film industry hurt by strong currency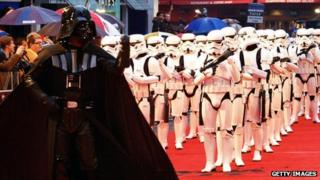 Australia is proud of its movie-making traditions and was once the photogenic darling of the international film industry.
It's not difficult to see why.
After all, Australia boasts thousands of miles of coastline, the magnificent Great Barrier Reef, harsh deserts, lush rainforests, extensive ski fields, drab suburbs and some of the most famous landmarks on Earth.
Locations and studios here have doubled for cities as diverse as Miami, New York, Paris and Tokyo.
Star Wars Episode III: Revenge of the Sith, Superman Returns, Moulin Rouge, and the Matrix Trilogy were all crafted here.
But spending by overseas producers has fallen sharply in recent years, as they've gone elsewhere looking for cheaper options, or to places offering better incentives.
For feature films, for example, foreign productions spent an average of $137m (£89m) a year in Australia between 2000 and 2009, according to Screen Australia.
But overseas feature film-makers spent just $1m in 2010 and $3m in 2011, as no major foreign picture was made in the country then.
The currency factor
According to industry players, one of the biggest factors behind the decline is the recent strength of the Australian currency.
The Australian dollar traded close to 47 US cents in 2001, but has risen to above parity against the American currency in recent years, which is deterring foreign film makers from coming to the country.
"They respect the work done here, the crews are great, the weather's good, there are very good studios here," said Bob Campbell, the head of production company Screentime told the BBC.
Despite the country's good reputation, the change in the value of the Australian dollar had made it harder to win work, he said.
"As an industry wanting to attract overseas talent, we'd like to see the dollar to be a little weaker rather than a lot stronger, but it is outside of everyone's control," he added.
However, Mr Campbell and the industry's wishes for a cheaper currency may not come true anytime soon.
Prime Minister Julia Gillard said recently that the "sustained strength of our dollar is now a feature of the economic landscape".
"It may persist for some time given Australia's status increasingly as something of a safe-haven currency."
Incentives and grants
The slump has increased pressure on Canberra to boost inducements to the sector through location allowances and tax breaks to soften the impact of a red-hot Australian dollar.
For its part, the government seems to have taken note and has made some moves.
Earlier this month, the Gillard government said it would give Walt Disney a one-off grant of 21m Australian dollars ($22m; £14m) to film a remake of 20,000 Leagues Under the Sea in Australia.
Ministers consider this money to be very wisely spent, insisting that the new movie will be as beneficial to the economy as The Wolverine, starring Hugh Jackman that recently finished production in Sydney.
Officials say it created more than 1,750 jobs, generated $80 million of investment and "reaffirmed Australia's status as one of the world's best filming destinations".
However, there are demands for federal authorities to do more to lure overseas movie producers, who've increasingly abandoned Australia because of high costs.
"It does get a bit depressing," says Debra Richards, the head of AusFilm, an industry lobby group.
"But I know that with the right incentives and knowing that Australia has so much to offer that we can still successfully market what we have to offer."
AusFilm is urging the government to almost double the location offset, a tax rebate scheme for foreign companies.
It wants the authorities to raise the tax rebate to 30%, from the current level of 16.5%, to help Australia compete with rivals in the US, Canada, Britain and New Zealand.
"Competition from other countries has made it more difficult to attract international production to Australia, so there has been a significant downturn," Ms Richards added.
Domestic focus
As audiences await the release of The Great Gatsby, there is a feeling in some quarters, though, that rather than spending millions attracting foreign producers, Australia should follow the lead of France and Germany and focus on maintaining its domestic film industry.
They warn that if Australia neglects this, it runs the risk of not only losing foreign film-makers but also causing long term damage to the domestic industry which is a source of employment for thousands of workers.
"Do we want to become a Bulgaria or Azerbaijan that have no local film industry but become repositories for international films due to their low costs and subsidised production facilities," argues Peter Krausz, chairman of the Australian Film Critics Association.
"We do not need to be taken over by amorphous production companies that do not reflect any aspect of Australian film-making, culture or stories.
"Let us back our film industry and ignore overseas producers who just want to make cheap movies outside of Hollywood," he added.