US Federal Reserve discussed slowing bond purchases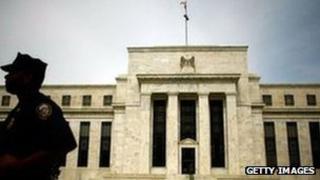 Minutes from March's meeting of the US Federal Reserve show some members favour slowing its quantitative easing programme later this year.
Some wanted to slow down the $85bn-a-month bond buying programme and stop it by the end of 2013.
The discussion took place before recent unemployment data from the US which showed disappointing jobs growth.
The minutes caused a flurry of excitement as they were inadvertently released hours earlier than normal.
The Federal Reserve said it had accidentally sent the report to congressional aides and trade organisations a day ahead of time, and therefore thought it should make them public earlier too.
The US economy is far from robust. Although last month economic data showed that the economy grew at a faster-than-expected annualised pace of 0.4% in the fourth quarter of 2012, that was still a marked slowdown from the previous quarter.
The Fed has previously said it will keep its policy of spending $85bn a month on Treasury bonds and mortgage-backed securities in order to lower borrowing costs for households and businesses.
It has said it wants to see signs of a long-term trend of falling unemployment before it changes policy.
Minutes from the latest meeting, which took place on 19 and 20 March, stated: "A few members felt that the risks and costs of purchases, along with the improved outlook since last fall, would likely make a reduction in the pace of purchases appropriate around midyear, with purchases ending later this year.
"Several others thought that if the outlook for labour market conditions improved as anticipated, it would probably be appropriate to slow purchases later in the year and to stop them by year-end."