GM to invest 4bn euros in Opel and Vauxhall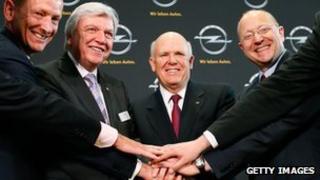 US carmaker General Motors (GM) has said it will invest 4bn euros ($5.2bn; £3.4bn) in its European subsidiary Opel.
Opel, which carries the Vauxhall badge in the UK, has been losing money for 13 years.
This has sparked much speculation that it might be sold.
Instead, GM's chief executive, Dan Akerson, said: "As a global automotive company, GM needs a strong presence in Europe."
"Opel is key to our success and enjoys the full support of its parent company."
Opel is important "in terms of design and development as well as manufacturing and sales", so the US parent company is "fully supportive of the Opel turnaround plan", Mr Akerson said.
However, the fresh investment is not expected to revive Opel's fortunes anytime soon.
Last year, its operating loss rose to $1.8bn, from $700m in 2011, so it could take another couple of years before Opel is back in profit, the company predicted.
Weak car sales across Europe are making Opel's recovery particularly challenging, according to industry observers.