Tackling football's big financial issues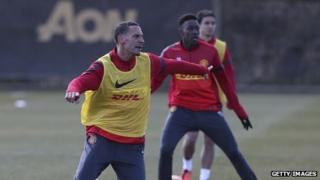 If Manchester United's recently announced £160m training ground sponsorship deal with Aon is anything to go by, then the business of football is in a healthy state.
But the Old Trafford giants have always been the exception rather than the rule, so the Soccerex conference this week has provided a chance to take a sounding of the broader financial mood and issues in the game.
The event has brought together European football federations and associations, major clubs, rights holders, leading brands, businessmen and others in the industry.
Sir John Madejski has been chairman and driving force of Premier League club Reading FC since 1990, putting in millions of his money in the past 23 years, including some £25m towards the club's Madejski stadium, built in 1998.
Last year, he sold 51% of the club to Russian businessman Anton Zingarevich, but he still plays a boardroom role at his hometown club.
Deep pockets
"Football is a risky business and a very tough one," he says. "Most clubs run at a loss and it is very difficult to make ends meet.
"It is a very expensive business and it is not for the faint-hearted. You have got to have very deep pockets if you are going to do it in a meaningful way."
He adds: "But it is not all about money all the time, it is about hearts and minds, and fellowship and community. We have punched above our weight for years because we have a good ethos."
He believes that footballers' wages are too high and that player agents are "parasitical", taking money out of the game.
But, despite these factors, he is a huge fan of the Premier League, calling it the "best export this country has".
"It is a colossal pull for this country," says the 71-year-old.
Football for the city
With two major Premier League clubs, Sir Howard Bernstein, chief executive of Manchester City Council, is in no doubt about the benefits that the business of football brings in.
"We have football to thank for the city's global presence, attracting thousands of international visitors, and millions of viewers," he says.
"Football is a key part of our economic strategy. In 2010-11, something like £380m was contributed to the local economy as a result of football in this city.
"Football is a fundamental part of how we see our city growing economically in the future."
Major issues remain for the football industry, however, the most worrying of which is illegal gambling and the corruption of teams and players, with potentially massive sums at stake.
A Europol report this year highlighted some 380 matches in Europe that it said were fixed, with organised crime being behind much of the illegal betting gains.
"One fixed game is too many," says Gianni Infantino, general secretary of European confederation Uefa, adding that it monitors 32,000 matches each season.
"Match-fixing is a big issue for us. It is a cancer. We can't allow anyone to attack the soul of football."
He said that 0.7% of matches show some irregularities, which might not necessarily mean match-fixing.
"We need the help of governments, law enforcement agencies and the police.
"We need the authorities to help us, because what is behind match-fixing is not to fix the match for the result, but because organised crime is behind this, and it is financing thing like drugs and prostitution, with the money made through match-fixing."
Financial rules
Another major issue is the introduction of financial fair play (FFP) rules, which come fully into effect in 2014-15, and under which clubs can only spend what they generate in revenues.
The rules are also there to make sure clubs pay their creditors, including players, other clubs and outside bodies, including the taxman.
In the run-up to the full implementation of the regulations, clubs' current spending patterns, and, if applicable, annual losses, are being monitored by Uefa.
"I think it is progressing very well," says Mr Infantino.
"The biggest success of financial fair play is not so much that we sanction [offending] clubs, but how we encourage owners, presidents, coaches, players, so that everyone has a notion of financial fair play.
"This change of mindset is what we wanted to achieve."
Mr Infantino said that Uefa also had a panel of legal experts to scrutinise big sponsorship deals - such as Manchester City's stadium sponsorship deal with Etihad airlines - to ensure they complied with the new financial rules.
'Top of the agenda'
Dan Jones, head of the sports business group at Deloitte, agrees that Uefa's message seems to be getting through.
"What is really interesting at the moment is financial fair play. When Uefa president Michel Platini first announced these plans, there was a lot of scepticism.
"There is still a lot of distance to travel, but by putting this at the top of his agenda he has changed the [financial] landscape."
The Football League and Premier League have introduced their own versions of FFP, which have been widely greeted, but Mr Madejski is not convinced.
"It is going to be difficult to get that level playing field," he says.
"I think it is a very hard concept to make stick, and there are fine brains at the top clubs who will find a way around it.
"I think when you meddle with anything, it is highly divisive."