Expats see business boom in Mid East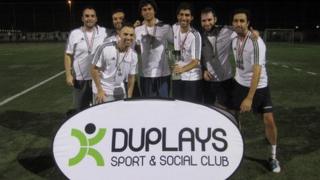 Whether you want to keep fit or make friends, get a new hobby or resurrect an old one, sport is an important part of life for many people living and working in a country that is not home.
And for one group of expatriates in the United Arab Emirates, spotting that demand from other expats has enabled them to create a booming business.
Duplays has been organising leagues and tournaments in the Gulf state since 2007.
Today it has almost 40,000 members and last year turned over more than five million dirhams (about £1m; $1.45m) from people paying to play sport.
"Most of the institutionalised activity seemed to revolve around shopping malls or going for drinks or brunches," says co-founder Ravi Bhusari, a Canadian-Indian who moved to Dubai in 2006.
"We figured plenty of people like to play sport and so the secret was to meet that need and build a website and a business that helped people discover what was out there."
Because it makes much of its income from organising corporate events, being in an international business hub has proved crucial to Duplays' success, while Dubai's tax-free status has not hurt either.
But being an "outsider" brings plenty of problems, Mr Bhusari says - not least, access to cash at a time when banks and investors are cautious about backing any small firms, never mind foreign-owned ones.
"Attracting money can be harder as an expat," he says.
"You can understand it from the investor's perspective. If an expat has a business and it goes belly-up, then they can walk away, go back home or to another country. They have less reputational risk, so for investors, that can be scary."
'Big on bureaucracy'
However, in a country where 85% of residents were not born in the country, and where the majority of Emirati locals take jobs in the public sector, inevitably most private businesses are set up by expatriates.
But the Middle East has a reputation as a tricky place to start a business, according to Roland Daher of Wamda, an organisation supporting entrepreneurs in the region.
He has just been in Cairo as part of a series of roadshows - for start-up companies - which brought plenty of anecdotes from business owners.
Seeing the Arab world as one region is a common error expats make, according to Mr Daher.
"It's not one market, it's not one type of consumer, not one financial regulation. It's 20 or so different places, There are similarities, but far more differences.
"Take Egypt - there's a huge market, but people's spending power is very limited. E-commerce and digital concepts in particular haven't really taken off, so they're businesses that you can't monetise easily."
And even once you understand the market, the region's notorious red tape makes it hard in a new country, Mr Daher says.
"Somewhere like Egypt's big on bureaucracy which, quite apart from the instability we've seen since the Arab Spring, wouldn't usually make it a good place for an expat to start."
While admitting to being "biased", Mr Dahar argues his hometown of Dubai is a far better place for expats targeting the region - especially because of its free-zone system that gets round the need to have a local partner, meaning start-ups can own the business 100%.
"It's not cheap, it's not always the best for business dynamics, but in relative terms, it's the best option," he says.
'Different mindset'
But whatever the difficulties, the potential of often large and untapped markets meant that when Frenchman Herve Cuviliez wanted to set up a media company focusing on content aimed at women, he did not do it in his home country.
Instead, he chose Lebanon to launch Diwanee.com - and found the red tape quite manageable.
"For one thing, when you come from France, it's not that bad by comparison," he says, arguing that a far bigger challenge was adjusting to an emerging market.
"Moving from an established digital scene, where getting 2% market share meant you had to steal it from somebody else, to a region where demand was growing - that took a different mindset. You could think much bigger," he says.
"Yes, Lebanon could be bureaucratic, but it was just a small obstacle.
"Harder was working in a sector few knew about. The banks didn't get what you meant by online media. You went looking for financial help and they'd send you an IT guy."
Having a Lebanese wife helped with contacts, Mr Cuviliez says, and he did not encounter too much anti-foreigner feeling.
"At the beginning, people look at you and ask, 'Why is this French guy coming here, and what is he doing?'
"That's because a lot of people look at this region and think they can come in, make some quick money and get out.
"But if you are serious, and you can prove you are in it for the long term, once people see you are committed, you become part of it."
Third time lucky?
And some expats have felt so part of the Middle East business scene that they keep on trying - even when ventures fail.
Half Romanian, half-Lebanese, Genny Ghanimeh had a choice of two countries where she could have set up without being a classic expat. But instead, she too chose Dubai.
"I have a personal identity crisis and I think Dubai has a bit of an identity crisis too and so it works. I couldn't be anywhere else and I think being here pushed me to be myself," she says.
The 2009 downturn saw the collapse of one business, while another failed, she says, after an arrangement with her local business partner did not work out.
Since then she has been an employee again, with an investment bank.
But now she is trying again with Pi Slice - a business that taps into the demand for microfinance funding - letting people and companies lend money to entrepreneurs in poor parts of the Middle East.
And she is confident the UAE will prove not just right for her, but for the business.
"You have a culture of giving here, and a young market who have access to money and are empowered to spend, so I really think it'll work," she says.
Back at Duplays, they have just raised $800,000 from investors, partly to support a launch into a new market - India.
The first destination, Delhi, has not proved straightforward. Early stumbling blocks have included traffic congestion deterring would-be sports players and potential customers with limited disposable income. But co-founder Mr Bhusari is confident.
"We're proud that although we're expats, we're building a company that is good enough to export. That's a great feeling."