CML: First-time house buyers highest for five years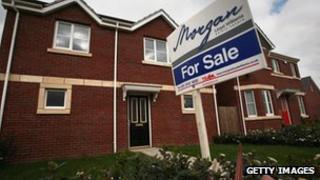 The number of first-time buyers entering the housing market is at its highest for five years, according to the Council of Mortgage Lenders (CML).
The number of loans given to those getting on to the housing ladder for the first time rose by 17% in February 2013, compared with a year earlier.
The CML said it was the best start to a year since 2008.
But the level of lending to those moving house continued to fall, said the CML.
The value of loans to movers fell by 2.8% over the year, while the number moving home and taking out a new mortgage fell by 3.2%.
In February, first-time buyers accounted for 43% of all home purchase loans.
"First-time buyers are continuing to take advantage of more favourable market conditions, helping to drive the underlying trend for resilient house purchase lending," said Paul Smee, the CML's director general.
"We hope that the new initiatives announced by the government in the 2013 Budget will further stimulate first-time buyer activity, but also help those 'second steppers' looking to move into a new or existing home," he added.
Recovery
In his March Budget, Chancellor George Osborne announced two new schemes to help people buy a home.
Under the Help to Buy Scheme, borrowers will be able to take out an equity loan from the government, which will enable them to put down a deposit of just 5% on a property.
That scheme began on 1 April.
Under the second scheme, starting in January 2014, the government will guarantee up to 15% of a mortgage. The scheme will be used to support £130bn of mortgages.
Partly as a result of the Help to Buy Scheme, the accountancy firm Ernst and Young predicted that the housing market would recover, albeit slowly, this year.
Measured by its Independent Treasury Economic Model, known as the Item Club, it said the number of housing transactions - sales and purchases - would rise by 7.5% this year.
It also forecast that prices would rise by 2.1% in 2014 and by 5% in 2015.
Ernst and Young said it believed the government's scheme would help to get people moving again.
"We expect it to boost the number of housing transactions, particularly at the lower end of the market," said Peter Spencer, the Item Club's chief economic adviser.