Goldman Sachs profits rise 7% on investment banking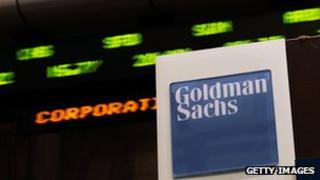 A strong performance in its investment banking division bolstered Goldman Sachs profits during the first three months of 2013.
The firm made $2.26bn (£1.47bn) net profits, a 7% rise when compared with the same period last year.
The investment banking division made $1.57bn, a 36% rise, during the period.
Goldman's total revenue rose just 1% to $10.1bn. The figures were ahead of analysts' expectations.
Earnings at the company's equity arm fell 15% to $1.92bn, which mostly reflecting a slowdown in trade executions and volumes on behalf of its clients.
"We are pleased with our performance for the quarter," said Lloyd Blankfein, chairman and chief executive.
"Our strong client franchise across our businesses drove generally solid results.
"Still, the potential for macro-economic instability was felt in the quarter and constrained overall corporate and investor activity. We continue to be very focused on controlling our costs and efficiently managing our capital."