Intel maintains sales forecast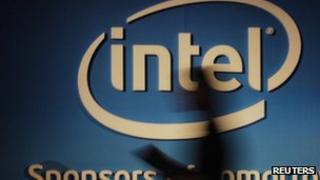 Intel, the world's largest maker of chips for PCs, has maintained its sales forecast for 2013, despite an industry-wide slowdown in computer sales.
Intel still expects a "low single-digit increase" in revenue across the year, after reporting first-quarter revenue of $12.6bn (£8.2bn), down from $12.9bn a year ago.
First-quarter profit fell 25% to $2bn.
Yahoo also released its latest quarterly profits on Tuesday, seeing its profits rise 36%.
Its net profit totalled $390m, compared with $286m a year earlier. However, most of the income growth came from its investments, such as its 24% stake in the Chinese internet giant Alibaba.
Yahoo's revenues were down 7% to $1.1bn.
Revival
Intel has been affected by falling sales of PCs. Research firm IDC said recently that global sales of PCs fell 14% in the first three months of the year.
Intel shipped 7% fewer PC chips in the first quarter compared with a year ago, but 6% more server chips.
The company said the improving economy, together with its new Haswell chip, which will go into the new ultrathin laptops, would lead to growth picking up towards the end of the current financial year.
Yahoo is battling against such highly dominant companies as Facebook and Google, and the company has got through five chief executives in almost as many years.
Its latest is Marissa Mayer, who was brought in nine months ago to revive the company.
She revamped the site in February to give it a more stylish look, and is trying to capture users of tablet computers and other hand-held devices, which are taking over from PCs and laptops.
She said it would take a number of years before the company would achieve the growth rate of giants such as Google and Facebook.
However. she said the building blocks were being put in place: "We are nearing the end of the first sprint. Now, our focus will shift to building beautiful products and executing well against our strategy."
Andrew Frank, analyst at the technology research firm, Gartner, said he thought the company's performance was adequate, saying the results were positive and not that much off their earnings target.